Webinar on social customer service strategies.
Does your social strategy go beyond marketing?
Your customers are having very public conversations about your company, your brand, and your products. So what are the best ways to engage with your customers and deliver customer care over social channels?

Agenda
Introductions – Jonty Pearce, Call Centre Helper
The Best Social Customer Service Strategies – Dave Ogden, Aspect
Top tips from the audience
Winning tip:  "When I did some NPS surveys with my customers/followers it became very clear that the customers i had a higher level of social interaction with were much more likely to give a higher NPS score." thanks to Ken
All the tips from the audience have now been turned into an article Eight great tips for customer service on social media
Interactive Q&A – Live questions from the audience
Topics to be discussed
Why the contact centre is the best place for these customer interactions to take place
Why you should route posts like traditional customer interactions
How to interact both reactively and proactively with your customers
The best ways to deal with a complaint on social media
Maintaining the context of social conversations
Building a social media customer engagement strategy
Measuring the success of social efforts through KPIs
Top tips from the audience
Interactive questions and answers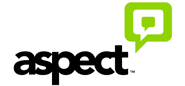 This webinar is brought to you by Call Centre Helper and is sponsored by Aspect.
Original Webinar date: June 2013