Social media is big business these days, and Facebook and Twitter are two of the biggest social networks around. But which is best for delivering customer service?
Twitter
Twitter now has more than 190 million users worldwide, and over the last two years companies have begun to realise the possibilities it offers for customer service. Twitter is all about instant, snappy communication in messages of less than 140 characters. Used effectively, it can be faster and cheaper than telephone or email customer service.
Some call centres train customer service call handlers to also communicate using Twitter and email. The job role of traditional telephone-based agents will perhaps evolve to include social media communication. But such communication is more complex than a simple one-to-one phone call. Many people can see and interact in a Twitter conversation. Call centres may need specialised social media strategies and staff to implement and monitor them.

Proactive customer service
Perhaps the best customer service feature of Twitter is the ability for companies to monitor exactly what people are saying about their brands. By using any of a range of simple tools companies can monitor search terms and hashtags – the Twitter term for a word preceded by the # symbol, a command which links a post to all others containing that particular hashtagged term.
You can search to see what people are saying about you at http://search.twitter.com
By combining a few searches – for example, the company name, product names, advertising slogans – every mention of that company on Twitter can be found, noted and acted upon if necessary.
This allows customer service to become proactive. If someone is complaining about your product or support service on Twitter, why not intervene with a message that takes ownership of the problem?
Potential PR disasters
The nature of Twitter makes it very easy to identify customers who may need service. But it also means that a customer gripe can become a public relations disaster if it isn't dealt with correctly. It is important to know how to use any social media platform correctly before including it in a customer service strategy.
Take the example of Mars-owned confectionery brand Skittles, which redirected its web homepage to show Twitter search results for the brand name. Unfortunately they didn't count on mischievous tweeters posting lots of negative and fake tweets about Skittles, such as 'Skittles got stuck in my mouth whilst I was driving, forced me to slam into orphanage, killing hundreds. I'll never eat them again'.
Disasters aside, companies such as Starbucks, Dell and BT use Twitter monitoring to engage with customers and nip complaints in the bud before they circulate widely. They are also reinforcing a positive brand image.
The best company Twitter accounts are helpful, thoughtful and develop their own style and personality. They adopt a business-like tone, but mix it with a more personal voice when suitable. They will announce new products, respond to enquiries and launch special offers, but also share staff recommendations, tips, or interesting links.

Use Twitter wisely
Twitter is also great for advertising and marketing, but it is important not to produce spam or mislead users. Don't direct sell to people. It won't work. Instead use it to show how good your company is, how it listens to customers and interacts with other companies. A good Twitter profile holds proper conversations with followers, and re-tweets interesting things said by others. It is a great opportunity to show a human side to a company.
In its current form, Twitter can't be used to completely resolve customer service issues. Instead it is best when used to redirect customers to the correct email address or service telephone line, or for chasing up a problem that is already being worked upon and reassuring the customer.
Facebook
If Twitter was the most talked about website of 2009, then Facebook was the most talked about of 2010. Over the last year Facebook has grown to more than 550 million users worldwide. Almost half of all internet users have visited the site. The company has attracted substantial new investment, and with the addition of new features to the website, appears to be challenging Google's online dominance.
Quite simply, companies can no longer afford to ignore Facebook. The network is part of the fabric of the web. Since the introduction of the Pages feature, companies and organisations have been able to create dedicated branded sites within Facebook from which to promote their products and services.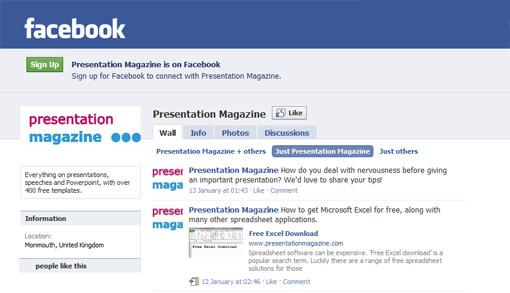 Facebook Pages
Facebook Pages are one way to deliver customer service in Facebook. They allow customers or fans of a brand to 'like' a page, which will then send future updates to that user's Facebook news feed. Customer support systems can also be incorporated into pages. Last year, online customer service specialists Get Satisfaction developed the Facebook Social Engagement Hub, which allows companies to answer questions posed by their customers and Facebook fans on their page.
In this sense, Facebook pages allow companies to host FAQs and interactive responses. Because of the way Facebook content is shared, customer service is likely to be less about monitoring what others are saying and trying to intervene when customers vent frustration at other methods of service, unlike Twitter.
Social customer service
Facebook could also be a great platform for social customer service, in which customers assist each other to resolve issues rather than contacting the company or service provider directly. Technology companies such as Microsoft often use this on their websites, which host large communities of users who share and discuss problems in forums.
A Facebook group could perform a similar role for companies experimenting with social customer service. Groups are similar to pages, but with a focus on community. They are useful for communications between lots of different people, all sharing information and advice. For example, in a Facebook group, a few customer service agents could answer questions from customers, or customers who were particularly adept and enthusiastic about a product could share their knowledge.
Not all products and companies are suited to social customer service. For those that are, Facebook is an increasingly useful platform.
And the winner is…
Ultimately the best social network for customer service will depend upon the product and company. Twitter is great for swift responses to customer issues, listening to what customers are saying, and promoting a brand. Facebook is perhaps better for fostering a community or sharing more in-depth information, including customer service responses. As both networks grow, and others spring up alongside them, companies may find they need a presence across each social media platform.
Social media is used by massive numbers of people each day, and not just young people.
Perhaps the question is not which network is best, but instead, can businesses afford to miss out on the potential benefits of social media?  Let us know your thoughts in an email to Call Centre Helper.
Matthew Brown