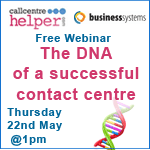 Contact centre excellence isn't achieved overnight, it's established by cultivating a successful blend of the right people coupled with the right technology to balance efficiency, service and profitability.
What do your 'best agents' look like, are they born or made? How do you motivate them to to perform? What tools are they using to 'get things done quicker'? What technology can be applied to optimise and enhance the customer experience?
If you think it's time to take stock of where your contact centre is versus where it needs to be, then this is the webinar for you!
Agenda
Introductions – Jonty Pearce, Call Centre Helper
The human perspective – Rob Wilkinson, CCC Call Centre Connect
Listening to your agents, customers and the business  – Guy Hannah, Business Systems
Winning tip – "#Tip, we have communal QA sessions, whereby all agents listen to the same call and give live feedback to the agent whose call it was – they seem to take it on board better and they're learning more skills."  Thanks to Zoe2.
Interactive Q&A – Live questions from the audience
All the tips from the audience have now been turned into an article 25 Things Successful Contact Centres Do
Topics to be discussed
Benchmarking the best agent qualities
Agent engagement through empowerment
Using voice biometrics to improve customer experience
Listening to your customers more
Listening to your agents more
Dealing with compliance & fraud
Quality monitoring
Flexible scheduling
Real-time guidance
Multi-channel contact
Original Webinar date: May 2014
---