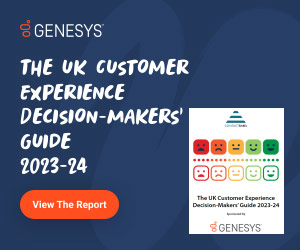 Genesys has entered into agreements to acquire Pointillist and Exceed.ai to enhance its ability to deliver the power of empathy in every customer experience as it executes on the promise of Experience as a ServiceSM. Both transactions are expected to close before the end of the calendar year 2021.
Genesys pioneered Experience as a Service to help companies transform how they connect with customers and employees. In today's experience economy, enabling interactions between customers and employees through a contact centre isn't enough.
Companies need new technologies and artificial intelligence (AI) to orchestrate end-to-end, meaningful experiences with the objective of driving trust and loyalty. This experience orchestration provides superior business outcomes, as companies embrace more contextual, predictive and relevant experiences with every point of customer or employee contact.
Consumers often tolerate fragmented interactions across marketing, sales, and service due to how companies design the customer experience. Genesys aims to help companies turn their customer interactions into connected, empathetic, orchestrated experiences at scale based on what customers want.
The acquisitions of Pointillist, an AI-driven customer journey orchestration and analytics solution, and Exceed.ai, a cloud-based conversational AI platform for sales and marketing, will be important and deliberate steps in elevating the customer experience beyond the contact centre as a force multiplier for customer value in sales cycle acceleration and customer engagement automation.
When the capabilities of Pointillist and Exceed.ai are combined with Genesys AI, digital and customer experience (CX) technology, organizations will be able to uncover new levels of insights to dramatically increase their ability to listen, understand, act and learn.
In leveraging the power of contact centre data to visualize actionable experiences and empowering more effective sales and marketing to grow customer revenue and retention, Genesys aims to deliver the ultimate business advantage to customers.
In addition, this combination can drive enterprise-wide transformation for customers by turning isolated data across the business into applicable insights and events that can be measured, tracked and analysed in real time to predict the right next-best action.
The new customer experience orchestration and analytics platform and enhanced conversational AI designed specifically for sales and marketing will be able to deliver a solution that puts the customer perspective first.
By aggregating customer experience data to optimize the right customer interactions that maximize success – and engage, nurture, qualify and amplify customer sales opportunities – customers interact with brands at optimal points for them with the most effective channels every single time.
Comments on the News
"Genesys is fundamentally transforming the customer and employee experience," said Tony Bates, CEO and Chairman of Genesys. "Experience as a Service is no longer an industry vision but rather a business advantage. With our cloud platforms and ecosystem, businesses can orchestrate personalized experiences for their customers and employees in a way previously not possible."
"We're dedicated to improving the customer experience by providing businesses with deeper visibility into the customer journey," said Ron Rubbico, CEO and Co-Founder of Pointillist. "Joining Genesys is a natural fit. Together, we will be able to help organizations deliver personalized experiences at a new level, strengthening customer loyalty and driving better business outcomes."
"Many businesses have struggled to develop and maintain relationships with potential customers, held back by limited time and resources," said Ilan Kasan, CEO and Co-founder of Exceed.ai. "When our AI technology is combined with Genesys, we can take the customer experience to the next level."
For more information about Genesys - visit the
Genesys Website