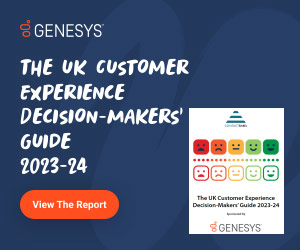 Genesys has announced its intent to acquire Bold360, a leader in AI powered digital customer engagement. The proposed acquisition of Bold360 from LogMeIn will advance Genesys' Experience as a Service vision.
Bold360 is known for its leading digital capabilities, including its conversational AI, dynamic knowledge base and intuitive agent experience.
By uniting Bold360's complementary capabilities with the Genesys AI and data platform and partner ecosystem, Genesys will enable companies to deliver experiences that are fluid, context-based and personalized across any part of their business or channel.
With Bold360, Genesys will accelerate its vision for Experience as a Service, reimagining how empathy can inextricably link marketing, sales and service experiences for customers.
Experience as a Service makes it possible for companies to listen, understand and predict customer behaviour before they act to deliver more effective and empathetic customer experiences.
In fact, customer engagement and service are becoming far more strategic as they move from a cost centre to a revenue accelerator.
According to Gartner, "By 2025, 40% of customer service organizations will become profit centres by becoming de facto leaders in digital customer engagement."
"The overwhelming positive market reaction to Experience as a Service reflects how eager companies are to constantly innovate how they engage their customers with empathy," said Tony Bates, CEO and Chair.
"Many realize they're missing an opportunity to establish more human-level connections with their customers across every engagement on any channel. With Bold360, we're aiming to transform digital into rich, dynamic personalized experiences companies and their customers will love."
"With Genesys Cloud, we have a robust customer experience platform with all the features needed to raise the bar on the service we provide to members," said Aarde Cosseboom, Senior Director of GMS Technology, Analytics, and Product, TechStyle Fashion Group.
"The combination of Bold360 and the Genesys Digital and AI platform is a game-changer, and we look forward to seeing how this can help us expand our digital channels."
"Companies have to become customer-centric," said Alan Webber, program vice president of Customer Experience, IDC. "They need to orient their business processes around customer experiences instead of around individual channels. One of the most promising areas is uniting digital with the rest of the experiences."
"LogMeIn is proud to have developed Bold360 to become a customer engagement solution of choice for enterprise contact centres, supporting more than 1 billion interactions every year," said Bill Wagner, President and Chief Executive Officer at LogMeIn, a leading provider of cloud-based solutions across communications, security and IT that enable the work-from-anywhere era.
"We're confident that Genesys is the right owner to unlock Bold360's full potential moving forward, as we focus our investments and innovations on enabling growing businesses to be productive, collaborative and secure in this new work-from-anywhere world through our other market-leading products."
Upon close, Bold360 will join the Genesys Digital and AI business unit led by Barry O'Sullivan, Genesys executive vice president and general manager.
The proposed transaction is expected to close the first half of calendar 2021.
This blog post has been re-published by kind permission of Genesys – View the
Original Article
For more information about Genesys - visit the
Genesys Website