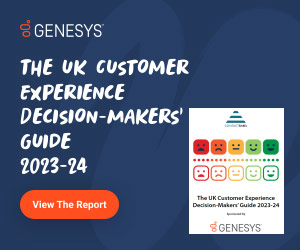 Genesys have announced that the Genesys Customer Experience Platform is now available for Microsoft Office 365.
This capability, combined with certified support for Skype for Business Server, allows customers to protect their long-term IT investments in flexible hybrid, private, or public cloud deployments, and enables a smooth and flexible migration to the cloud.
As companies continue the shift from using a private branch exchange (PBX) to unified and cloud communications, an impediment to full migration has often been the integration of rich contact centre capabilities.
With Genesys now supporting Office 365 for its PureEngage and PureCloud by Genesys offerings, organisations can benefit from a fully integrated suite of contact centre solutions for voice and digital channels, workforce virtualisation and efficiency, and self-service functions, all within a homogeneous environment.
"We seek to align ourselves with other innovative companies around the world, like Microsoft, that believe in the value of delivering great customer experiences," said Merijn te Booij, chief marketing officer of Genesys.
"In a move that's sure to benefit our joint customers even further, we've deepened our alliance once again. This new native integration between the Genesys Customer Experience Platform and both Microsoft Office 365 and Skype for Business Server helps organisations provide more seamless, consistent and contextual customer journey"
Genesys is a Microsoft Gold Partner and its certified support for Skype for Business Server assures compatibility and reliability for investment protection. Key new advantages resulting from native integration with Office 365 include:
Enriching the customer experience with true omnichannel customer engagement across Skype for
Business channels and all other digital channels including email, SMS, social, and web.
Increasing first contact resolutions through agent collaboration with subject matter experts throughout the organisation.
Removing geographical restrictions by virtualising operations through the ubiquity of Office 365 and the deep intelligence of the Genesys Customer Experience Platform.
Eliminating complexity so its considerably easier to install, administer and support, resulting in lower cost of ownership.
Innovating with best-of-suite customer engagement solutions – supporting true omnichannel, workforce optimisation (WFO), self-service, and workload distribution within a single platform.
"We are pleased that Genesys is now expanding its collaboration with Microsoft. By supporting Microsoft Office 365, they will further enrich the omnichannel customer experience and help companies of all sizes transition to the cloud easily," said Lori Wright, general manager for Microsoft Teams and Skype at Microsoft.
To further connect and complete customer journeys, Genesys platform users also benefit from an integration with Microsoft Dynamics 365, the customer relationship management solutions that help sales, marketing, and customer care teams work as one to deliver personal experiences across every interaction of the business.
To find out more, visit www.genesys.com