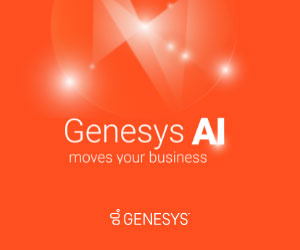 We're proud to announce that Forrester has recognized Genesys as a Leader in The Forrester Wave: Customer Journey Orchestration, Q2 2022 report.
This report evaluates the strength of our cross-platform journey analytics and orchestration capabilities, including Pointillist and Genesys Predictive Engagement.
We received the highest score possible – 5 out of 5 – in 11 of the 27 criteria, which we believe proves we give businesses a robust foundation for customer journey orchestration through our current offerings and strategy.
Forrester gave Genesys the highest possible scores in the performance, scalability, client experience, integration, workflow automation and continuous testing criteria, which we think are critical factors that help businesses rapidly scale to support customer growth and serve an expanding, varied user base.
The combination of our patented cloud, digital and artificial intelligence (AI) technologies, along with innovative solutions from you, our partners, enables businesses to transform transactional customer interactions into empathetic, orchestrated experiences.
Great achievements are the outcome of great teams. From where we stand, our position as a leader is a testament to the collective efforts and contributions from our Genesys partners.
And this is just the beginning. Together, we'll continue to reimagine customer experience and delivering the best outcomes for our joint customers.
For more information about Genesys - visit the
Genesys Website