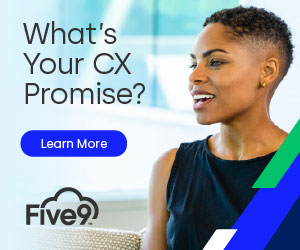 Thomas John at Five9 questions whether the COVID pandemic has sped up government and public sector adoption of cloud technologies.
In a word: YES!
Perhaps the only major benefit of the COVID-19 pandemic is the accelerated pace of digital transformation and cloud technology adoption.
Through necessity, working in the cloud has now been tried and tested, and even previously sceptical public sector IT leaders are likely to be convinced of its potential now.
Cloud will continue to be the solution that enables flexible working for today's workforce that is dispersed between coffee shops, home, the office and anywhere else with a decent level of internet connectivity.
7 Top Reasons Government and Public Sector Should Accelerate Their Cloud Journey:
The Cloud is scalable and agile, allowing public sector organisations to deploy flexible IT solutions based on ever-changing needs. When budgets are challenged subscription levels can be changed and optimised accordingly.
It is quicker than ever before for organisations to find and buy IT products and services through the digital marketplace. The days of long buying cycles are numbered.
Public sector organisations don't have to worry about managing security. That's all managed by the provider with the necessary certification for reassurance.
Ongoing maintenance of the application and infrastructure is also managed by the provider, freeing up budget and resources to improve the provision of services.
'Users' expect the levels of customer service found in the private sector (that have never been higher!). Check out our 2021 consumer survey to see what they now expect.
Your public sector workforce will become more engaged and productive, armed with better tooling. Tooling that embraces automation and AI to help drive maximum efficiency and better outcomes.
Everything digital has the capability of being measured and analysed, meaning service levels can be adjusted and continually improved.
Is It Time to Embrace CCaaS in the Public Sector?
I opened this blog talking about the secular tailwind of the COVID pandemic, causing an acceleration of digital transformation and technology adoption.
Sadly, the downsides of the crisis are extremely well known and keenly felt at the intersection of where today's beleaguered consumers meet today's beleaguered goods and service providers.
This intersection — usually a customer contact centre that is using outdated legacy technology and techniques — is a place of huge potential friction, and needs careful thought, provisioning, and full-analytical capabilities to thrive.
Blending cloud technology, with digital workflow automation, using Intelligent Virtual Agents and workforce optimization, provides public sector contact centre operatives with much-needed support.
Bring in gamification and all the tools that their private sector counterparts enjoy, and you will build engagement, loyalty and productivity to serve those increasingly demanding consumers.
All of this while potentially lowering your overheads and freeing up budget otherwise earmarked for legacy hardware and outdated equipment.
And the Consumers?
Get your agile technology stack right and your customer contact centre operatives will be happier. Happier operatives equate to happier consumers who expect better service levels and an omni-channel approach to their concerns and queries as a basic.
This blog post has been re-published by kind permission of Five9 – View the
Original Article
For more information about Five9 - visit the
Five9 Website