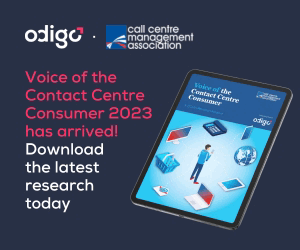 Hervé Leroux of Odigo discusses the value of having contact centre agents that are great advocates of your organisation.
If you want customers to love your brand, your employees must love it too.
Tomorrow's customer service agents will be versatile, autonomous, proactive people, who will be able to handle written and spoken requests across channels.
Just like the customers they serve, the rise of Digital has given a voice to customer service agents, who are able to freely express and discuss their opinions on social networks, forums and through blogs. In turn, when improving their customers' journeys, organisations count on the proactivity of their employees to help build customer loyalty.
I recently met up with Eric Dadian, president of Association Française de la Relation Client (AFRC—the French Association for Customer Relationships, to which all of our clients and competitors belong), to ask him what all of this means for employees, and how organisations foster a sense of commitment from their customer service agents.
Hello Eric, can I start by asking what you imagine the customer service agent of tomorrow will look like?
Tomorrow's agents will be versatile, autonomous, proactive employees, who will work across numerous channels. They will be able to handle written and spoken requests across channels, as well as monitor and track what is happening on social networks.
What we're seeing is that many organisations have abandoned scripts and given their customer service agents the freedom to carry out commercial negotiations as they think best.
However, to build human relationships and customer intimacy, agents need tools that enable them to get to know their customers and their histories in the blink of an eye—who they are, have they already contacted us, do they have any requests in progress. Agents can follow the correct procedures of their particular organisation, but also use their own initiative in a negotiation when necessary.
Agents will be mobile and have efficient tools, and thanks to the multitude of available channels such as instant messaging and video, they won't have to sit at a desk all day— they will be able to start a conversation at any time and any place.
Customer relationship departments have been developing the concept of "symmetry of attention" for around ten years. Do you see any related practices being implemented in organisations?
Some leaders have been implementing the "symmetry of attention" for several years, for example, Gaz Réseau Distribution France (GRDF—a French gas company), where they firmly believe that the employees are the primary ambassadors of the brand.
Out of 11,000 employees, 1,000 regularly express themselves on social networks. This phenomenon is spreading across all sectors, especially the luxury sector. There are new customer-oriented positions such as community managers, data analysts and robot assistants that highlight the importance of customer relationship teams whose task it is to know and satisfy their customers and foster customer loyalty.
Customers will be loyal and will form loyal communities only if they feel that customer service agents are able to convey emotions. Only a human being can be empathetic, kind, attentive and can create a genuine, human relationship with a customer—we can see or hear the other person smile, even on the phone.
Happy agents will certainly attract loyal customers. According to one of our studies, 95% of consumers think that an organisation that makes its employees happy and gives them enough autonomy can offer better services.
Will organisations that put the idea of "employees first, customers second" into practice gain better results?
I believe they will. Organisations not only value their financial resources, but also their human capital. Organisations that offer good working conditions, great flexibility and training sessions for their employees will have lower turnover of staff. Moreover, employees who gain this experience and become even more valuable workers will remain loyal and committed to their organisation. A lack of employee commitment can be very expensive.
According to American research-based, global performance-management consulting company Gallup, the results of the latest studies are worrying: only 13% of employees worldwide are committed to their work. To make matters worse, there are twice as many actively uncommitted employees (24%).
At the same time (also according to Gallup), it is estimated that a lack of commitment by employees costs the US economy around $450–550 billion, while 72% of motivated employees are convinced that they can positively influence the customer service.