Helplines Partnership announces the winners of the 2018 Helpline Awards at their Annual Conference and Awards, in London.
Now in their fifth year, the awards seek to recognise and celebrate the achievements and contributions of organisations and individuals to the helpline sector.
Helplines play such a crucial role in supporting some of society's most at risk in times of crisis.
This year's winners are:
Helpline of the Year: MS Society
This award recognises helplines who have made a significant contribution to the sector and the wellbeing of service users.
What the judges said: "A forward-thinking helpline that has undertaken a year of change and improvements, all focussed on providing excellence to service users." The judges also commended "the innovative ways in which they seek to help service users, with a good focus on meeting their accessibility needs."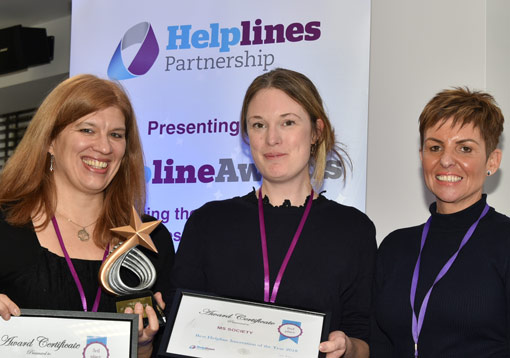 Multiple sclerosis (MS) is a neurological condition that affects a person's nerves. MS Society is there for people who have MS or for people who care about someone who does. The MS Helpline provides a confidential service which offers emotional support and up-to-date, evidence-based information to anyone affected by MS covering symptoms, diagnosis, treatments, benefits, health and social care, complementary therapies, employment, discrimination and research.
Last year, 2017, the MS Helpline answered over 18,000 enquiries. The highest number of enquiries the helpline has ever responded to.
The helpline is introducing web chat and British Sign Language to increase their accessibility and reach.
The helpline has also recognised the struggles people experience with the benefits system and as a response to this need, is recruiting a new benefits advisor post.
Best Helpline Innovation of the Year: Scope
This award recognises helplines who have made an important change for the good of service users. It may be a technological enhancement, a powerful campaign or a creative idea that has made a big impact.
What the Judges said: "The helpline recognised the need for early intervention in a complex and unknown area with a huge impact on many people. The innovative use of an existing channel, at a crucial time, resulted in large numbers of people receiving information with minimal impact on the helpline. This seems like a great model for best practice."
Scope is the disability equality charity. They want to achieve a society where all disabled people enjoy equality and fairness. At home. At school. At work. In our communities.
The Scope helpline caught an early trend for complex queries around Universal Credit which were difficult to answer and explain accessibly. With little existing content about Universal Credit at the time and significant distress coming through on the phones, time was also a factor – it needed to happen quickly. The helpline broadcast live on Facebook. They answered real-time, curated questions about Universal Credit from customers and emphasised key points. From daydream to delivery in 30 days, and Scope got great engagement from this piece of work.
The two individual awards were:
Helpline Employee of the Year
Fedra Mardani, an employee from Karma Nirvana helpline won the award this year.
Fedra displayed fantastic leadership and organisation skills enabling the team to prioritise and streamline responses to the many calls and emails.
Karma Nirvana is an award-winning National charity supporting victims of honour-based abuse and forced marriage.
Helpline Volunteer of the Year
Pauline Green, a volunteer from the Families Need Fathers helpline won this award. Pauline showed devotion to her role, responding to 800 calls in two years and going well and truly above and beyond the role of a volunteer. She has offered endless emotional support as well as vital practical information to hundreds of callers.
Families Need Fathers is the leading UK charity supporting dads, mums and grandparents to have personal contact and meaningful relationships with their children following parental separation.
Paula Ojok, CEO of Helplines Partnership said: "The awards are an opportunity for helplines to step back and reflect on the huge contribution they make to the lives of the people who contact them. Congratulations to all this year's winners."