Alex Connors reveals how, when crises create calls, your business needn't be wiped out by the sheer volume of contacts that come in from crowds. This, he says, is the opportunity for interactive voice response (IVR) to show its worth.
When a crisis of any kind triggers a public clamour for information or a mass requirement to supply feedback, focusing attention on interactive voice response (IVR) technology may not be the first contingency for consideration. Its impact, however, is often underestimated, and in practice it can often help expedite recovery of the status quo.
From an outbreak of bird flu at Bernard Matthews' to Jade Goody's unsavoury episode in the Celebrity Big Brother house, when the general public decide to get in touch, finding a way to manage unexpected and huge volumes of incoming calls quickly can be critical.
The ability to respond through fast deployment of automated call handling systems and procedures often proves to be the determining factor in ensuring the protection of reputations, brands and even business operations from the force of public disapproval.
IVR telephony is, of course, already commonplace in high call traffic organisations, through touch-tone IVR – in providing travel information or cinema listings, for instance – or voice IVR, which is typically used to manage payment transactions. Its adoption has become more widespread across numerous public-facing applications and customer acceptance is high.
Crises, however, where IVR could provide critical support, tend not to announce themselves well in advance and, by their nature, are often combined with high-running tensions.
The implementation of 'unplanned' IVR to proactively respond to and filter every incoming call at times of unexpectedly large volumes in traffic immediately introduces a level of scalability far beyond the typical capacity a contact centre is designed to manage. Most importantly, effective call routing and voice automation gives the decision makers within the organisation breathing space to implement other continuity measures.
How IVR implementation can neutralise caller distress
The application of IVR in a sudden, volume call-in scenario is invaluable. In any emotive situation, response is the first priority for defusing a crisis, providing instant information to callers seeking specific details or – for more complex queries – advice on when their call will be responded to by a call centre operative. Such an approach goes a lot further in terms of goodwill than a continuously engaged tone. After all, when time is of the essence, callers will not accept anything less.
Recent incidents such as the 7/7 bombings in 2005 and 10/8 Heathrow terror scare in 2006 precipitated massive spikes in caller responses to national helplines and travel information providers during the security clampdown on international air travel.
Literally millions of people were unable to access the information they needed as websites crashed and call centres creaked under the strain. The fast introduction of IVR to filter large volumes of calls – many of which were then resolved through automated messages – not only delivered the information public callers required, but also helped to free up call centre representatives to deal with ongoing real-time emergencies.
For callers around disaster events, information is the key to neutralising distress and, where large volumes are involved, enabling automated routing and response is essential.
Interactivity drives increasing need for IVR contingency
In addition to 'force majeure' events, the climate for public call-ins is volatile, fuelled by the growing proportion of interactive media and entertainment programming we all consume. Primetime TV phone-in competitions and interactive reality TV programmes have stolen the media limelight of late and all for the wrong reasons.
New, interactive entertainment formats have ceded power to the masses. The viewer is now the decision maker, emotional involvement is high, and outcomes of television series and even entire careers are in the hands of the remote control generation.
Engaging the public to create authentic entertainment is a nice idea, but giving them input without planning for negative events through well-managed, scalable call handling systems is a costly mistake that has been well learned of late.
Richard & Judy and GMTV, to name but a few, have all profited from the new breed of reality television shows vicariously funded by the interacting public. Yet all have experienced the wrath of dissatisfied viewers in the current competition and voting scam row. Not only has the public lost faith, it also wants its money back. And that means calls. Lots of them.
And that's not all. The BBC's Dancing on Ice extravaganza lost thousands of text votes during a nail-biting final, which upset a large number of skating fans who demanded a refund. And in January of this year, the public rose up again to denounce Jade Goody's bullying of Bollywood siren Shilpa Shetty in Celebrity Big Brother.
Ofcom, the television regulator received 50,000 complaints in just a few days. Viewer complaints crashed its website and phone lines to the regulator's call centre were jammed. To its credit, Ofcom created what might perhaps be the first Celebrity Complaint line through touch-tone IVR, requesting callers to 'press 1 to lodge a complaint about Jade Goody'.
The point here, however, is a serious one; swift, effective handling of high volume calls by adopting IVR technologies is the difference between averting or compounding public dissatisfaction.
Through the growing interaction of the public through all forms of media, the propensity for mass objection is becoming more frequent. The unexpected in today's society is perhaps less unexpected that we might imagine.
IVR is business critical, not just crisis critical
The telephony handling of sudden unforeseen events that trigger mass public communication – where the public either demand or provide information – can be the turning point for whether a crisis is considered to be well-managed. And used in the correct manner, IVR can help manage a crisis very well indeed as a tool for handling repetitive, high-volume complaints and requests that are pivotal to crisis resolution.
In addition to its suitability within crisis management, of course, IVR also delivers significant business benefits by enabling skilled call centre staff to focus on individual service to valued customers and selective provision of a human interface for high-value calls.
IVR can also be effectively used in tandem with 'real' call centre representatives, so helping to reduce call centre occupancy and improve efficiency by filtering the priority callers with regard to urgency or any other parameter to agents or additional automated information.
And finally, the old perception of speech recognition as a software programme returning below-average intelligence through random recorded messages is exactly that: old.
Speech and voice recognition technology has advanced considerably. The latest voice technology can now incorporate unstructured speech, greater personalisation and multi-channel integration within an efficient and effective automated voice response environment. Rather than decreasing the customer service experience, IVR can actually enhance it during a crisis and beyond.
The response is immediate, questions are answered quickly, and premium or urgent calls are routed to agents instantaneously, in short defusing an unfolding situation rather than elevating it.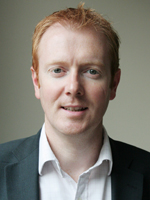 Alex Connors is head of IPT and Contact Centre Solutions at Cable & Wireless
Tel: +44 20 7315 4000