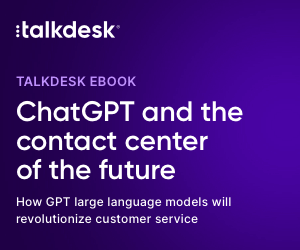 Lídia Dias at Talkdesk looks at what it takes to improve customer service in call centres, so you can meet customers' expectations.
The changing dynamics of customer expectations, driven by an increase in the demand for digital shopping experiences and social and cultural changes, place the customer service department at the core of customer experience.
Customers base their relationship with brands according to the company's ability to provide effective resolution to their inquiries. A loss of consumer confidence in customer service can permanently derail your business growth plans.
This is clearly illustrated by 'The future of customer loyalty', a Talkdesk Research report that found out that:
The ability to resolve customer service issues on first contact is the #1 driver of consumer loyalty.
49% of consumers had stopped working with a company in the past year because of an instance of poor customer service.
Having to repeatedly contact the company, long waiting times, and lack of communication have an extreme impact on consumers' likelihood of continuing working with a company.
The good news is that, if you put up a plan, you can improve call centre customer service and provide the level of service your customers expect. This blog post is a great place to start.
Step 1: Think as a Contact Centre, Not a Call Centre
First of all, let's get clear on call centre and contact centre definitions. A call centre can be defined as an office used to accommodate a team of representatives that will be answering and making customer phone calls.
These teams are usually responsible for providing assistance on customer orders and returns, general questions, and service requests.
Contact centres, on the other side, are modern-day call centres, meaning that they do much more than simply make and answer phone calls. They support other channels such as video, chat, and social media, and are connected with the company's systems of record such as the customer relationship management (CRM) system and others.
Contact centre teams can be on-site, remote, or hybrid—regardless of the working model, all agents have the same level of information, including customer historical information and previous interactions, providing an increased level of service by leveraging different channels and a 360º view of the customer.
You should not reduce customer service to answering calls. Providing your customers with alternative channels of communication will not only increase customer satisfaction (CSAT) and improve the customer experience (CX), but it will also reflect on your agent's performance and engagement.
Step 2: Let Customers Self-Service on Their Own Terms
Speaking of alternative channels, your customers should have the ability to help themselves with a human-like self-service.
Customer self-service gives your contact centre increased efficiency by reducing agent workloads and headcount —and, at the same time, positively impacting CX by speeding up case resolution, giving your customers more control and convenience.
With artificial intelligence (AI) powered tools, your customers can get the answer to their inquiries on their own terms and have 24/7, fast customer service with a high-quality and convenient automated self-service experience.
Step 3: Understand How Phone Conversations Are Unique
At this point, it's important to highlight that, while providing efficient self-service, you should also give customers the ability to talk to an agent, if necessary. Self-service channels provide customers with quick and accurate responses, but only a human can create empathy with others.
Some service requests will need an agent intervention, and some clients may not be as proficient with self-service tools as required or feel the need to discuss their issues with an agent.
Agents should be trained to identify and act on more complex customer inquiries. Knowledge bases and agent assistants are powerful tools to support them in such interactions.
Step 4: Listen to Your Customers
To improve call centre customer service, pay attention to what the customer is saying. Really pay attention. To accomplish this, consider the following:
Integrate the most commonly used systems with the contact centre platform and give your agents a single pane of glass.
Use AI-powered speech and text analytics tools to find key conversational moments, topics, customer intents, and sentiments.
Set alerts to be triggered when specific present conditions occur to proactively address issues.
Step 5: Improve Processes and Procedures
Red tape, hierarchical restrictions, cumbersome procedures—all these affect your call centre customer service experience and, ultimately, the entire business performance. To improve your call centre performance, you need to assess which processes are hindering agents in providing the best possible service experience.
Step 6: Reach Out Proactively to Your Customers
Don't rely on the old call centre model of waiting for customers to have problems and reach out to you. Today's customers expect companies to anticipate them.
Contact centre agents that were once seen as non-strategic are now being recognized as the face of the company, providing the customer with a comprehensive service and sales experience.
Anticipate your customers' needs and reach out proactively for personalized engagement that drives loyalty and business growth, using tools and agents' skills to upsell and cross-sell while still effectively handling service calls.
Step 7: Set Tangible Service Standards
Your agents can't improve if they don't know what to improve. Without a clear set of service standards, you're just talking through your hat.
Get a deep understanding of the important key performance indicators (KPIs) to track and set goals for metrics like customer satisfaction (CSAT), first call resolution (FCR), and others. Go back to these metrics, analyze, and readjust now and then.
Step 8: Keep an Eye on the Data
Each customer interaction is a gold nugget that can be used to improve CX. However, companies often fail in extracting value out of the contact centre data.
This information can be used to make timely and better-informed decisions regarding performance. Modern tools allow you to easily keep an eye on the data, identify trends, detect pitfalls, and take an instant action to improve CX.
Conclusion
The next generation of businesses will be able to survive whatever technological changes have in store by staying relevant in the lives of their customers. For current customer satisfaction winners like Amazon and Apple, reputation translates directly into higher premiums that their brands can charge.
By providing amazing customer service, you can let your customers take over the job of promoting your brand for you on social media so you can put those advertising dollars back into your pocket.
This blog post has been re-published by kind permission of Talkdesk – View the
Original Article
For more information about Talkdesk - visit the
Talkdesk Website