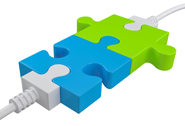 The Genesys Customer Experience Platform is now integrated with Skype for Business.
Genesys has achieved a native integration with Skype for Business using the Unified Communications Managed API, part of the Skype Developer Platform.
This integration enables customers and organisations to engage through video, voice and instant message, as well as transfer between these channels without interruption.
The solution provides organisations with a converged communications infrastructure over which to route any interaction in any channel or to switch between channels, while capturing analytics.
It connects the customer with the best agent or subject matter expert in any department and location. Customer-centricity with personalised one-to-one engagement is now a practical reality for organisations of all sizes in the contact centre or across the entire organisation.
Interactive Multimedia Capabilities allow customers to engage more personally with agents and to gain access to subject-matter experts across the organisation.
Uninterrupted Channel Transitions enable customers and agents to move their interactions between voice, video and IM in Skype for Business.
The ability to engage with customers through the same desktop application over any channel.
Journey Orchestration now includes the orchestration of interactions with anyone present and available via the Skype for Business infrastructure over any channel.
Enhanced Reporting for contact centre operations for all interactions fielded by Skype for Business users, regardless of device, channel or endpoint used.
"Leading organisations know that engaging their customers with the right expert no matter where they sit is ideal, but in the past some have viewed it as impractical. With Genesys and Skype for Business, organisations can easily achieve this ideal at any scale," said Paul Segre, President and CEO of Genesys. "The new solution gives organisations the ability to take their business results to new levels, improving sales, building better brand loyalty and lowering costs."
For more information about Genesys, visit their website.
---