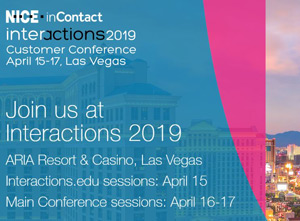 About the Event
THE DATE: April 15-17
You'll find no better place to learn, network and have fun than at Interactions 2019!
As the largest industry event, Interactions 2019 promises to be spectacular, by combining more than 200 informative breakout sessions with, amazing keynote speakers. All this turns into a "MUST SEE" event and will be packed with valuable content and fun activities. Learn how your organization can deliver an outstanding customer experience, improve business results, and ensure compliance. Plus, you´ll have a chance to network and mingle with NICE inContact experts, customers and industry leaders who will be sharing their knowledge and best practices.
Over 2,500 of your industry peers are joining us at the Aria Resort and Casino in Las Vegas from April 15 – 17, 2019, so why not register now and save your spot?
Learn from industry experts as they discuss key trends, challenges and opportunities in the market
Gain thought-provoking insight into the future of customer interactions and their impact on your business
Share valuable content with other NICE inContact users and examine real-life issues you face
Network with peers and colleagues from the extensive NICE inContact user community
Discover NICE inContact's roadmap and vision
THE ORGANISERS: NICE
THE WEBLINK: https://nice.com/interactions/index.html
Date and Time
Starting:
Monday 15th April 2019

Ending:
Wednesday 17th April 2019
Location
Organisers