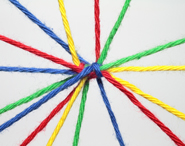 Interactive Intelligence is offering its contact centre and dialler software with the new CallScripter application.
The upgraded application enables contact centres to build customised agent applications for inbound and outbound customer interactions.
"Our latest CallScripter application with the new unified desktop option for agents gives customers a more comprehensive solution so they can further improve service, increase agent productivity, and enhance compliance," said Jane Brett, Global Channel Director for CallScripter.
The Interactive Intelligence Customer Interaction Centre (CIC) 4.0 and Interaction Dialler 4.0 software integrated with CallScripter includes the following new features:
Unified agent desktop now embedded with new Communication Toolbar for improved ease-of-use.
New screen-pop functionality for faster, more effective service.
Full call control embedded in the user interface for increased productivity.
Inbound and outbound functionality, including email, for use with Interaction Dialler campaigns for increased efficiencies.
Additional new features include agent status controls, call recording, secure pause, Interaction Dialler staging, call reschedules and dispositions.
The integration of CIC and Interaction Dialler with CallScripter, which is replacing EasyScripter, is available immediately through the Interactive Intelligence channel of 350 global resellers.
For more information, visit Interactive Intelligence's website.
---