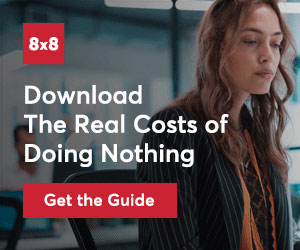 National Express has chosen the 8×8 XCaaS (eXperience Communications as a Service) integrated cloud communications and contact centre solution to help employees stay engaged, productive, and efficient, regardless of work location, to deliver an enhanced and secure customer experience.
The implementation includes 8×8 Secure Pay, an essential XCaaS component powered by PCI Pal, which provides an important layer of security and compliance for credit card payments over the phone.
Instead of call centre agents requesting card details, customers key in payment details directly onto their phone's keypad – maintaining the highest level of privacy for customers.
National Express services 21 million passengers per year in the UK and needed an integrated cloud communications and customer engagement solution capable of meeting their security and data privacy requirements, which weren't met by their previous vendor.
Additionally, their contact centre agents, of which 80 percent work remotely, required a solution that was tightly integrated with their CRM system and able to accept secure payments over the phone without compromising privacy, regardless of where the employee or the customer was located.
Lawrie Neal, Salesforce System Administrator at National Express, LTD, said: "For us, it's about having a better customer experience with tools that are intuitive and easy for our staff, regardless of whether they're in the office or working remotely.
"8×8's integration with PCI Pal has been a game-changer for us. It allows us to provide an easy and secure experience for our customers while maintaining compliance with PCI data security standards.
"By choosing 8×8, we've been able to improve productivity and efficiency, reduce the time to resolve customer requests, improve payment security, and create an overall more seamless and enjoyable experience for our customers."
8×8 XCaaS integrates cloud contact centre, voice, team chat, video meetings, and CPaaS embeddable APIs capabilities in a single-vendor solution.
This provides National Express's employees, contact centre agents, and administrative staff with a cutting-edge suite of cloud communications tools. These capabilities help to strengthen the employee experience and deliver optimal customer service, anywhere and on any device.
Furthermore, with the new 8×8 Agent Workspace, National Express's contact centre agents benefit from a simplified interface to help them work faster and improve customer service levels.
Seamless data synchronization with Salesforce provides agents with context and a rich history of customer interactions to further improve customer satisfaction.
For more information about 8x8 - visit the
8x8 Website