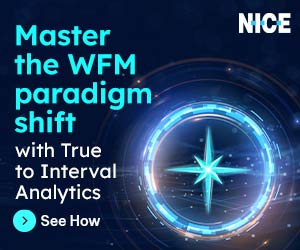 NICE has announced the Spring 2022 release of CXone, which adds innovative new capabilities that accelerate self-service success.
Further expanding on NICE's CXi platform and its focus on the end-to-end digital customer journey, the new capabilities proactively anticipate points of friction on the web and across mobile journeys and simplify them to drive more positive CX and conversion and deepen loyalty.
Expanded integration with additional bots and assistants for both voice and chat, from industry-leading bot frameworks, make data easily accessible for agents when needed while increasing the ability of businesses to deliver support across the globe.
Paul Jarman, CEO, NICE CXone, commented, "In today's age of instant gratification, customers expect speed and efficiency while expending minimal effort on receiving service.
"Dispelling friction and guiding customers in the moments when they need support is key to making experiences flow and building relationships that last.
"With the Spring 2022 release, CXone brings innovative capabilities that transform self-service into a more proactive experience that benefits both customers and agents, boosting brand loyalty."
The CXone Spring 2022 release drives:
Faster online resolution with guided web and mobile journeys:

CXone Guide proactively provides contextual guidance without human assistance for accelerated self-service success.
The solution makes it easier for customers to complete tasks, like online application forms, without human assistance by providing snippets of information when needed. Anticipating friction points, CXone Guide shares contextual 'nudges' via pop-ups with timely and relevant data on the page to help when customers struggle.
This boosts online conversions and resolutions and accelerates e-commerce while reducing support costs. CXone Guide is integrated with CXone Expert's advanced knowledge management capabilities as well as with webchat, enabling customers to engage further through self-service or directly with live agents.
Mobile developers can now easily integrate CXone messaging features in their native application with Mobile SDKs for iOS and Android.

Frictionless experiences that boost CSAT with new composable AI and self-service:

Weaving a slew of new bot frameworks into its fabric, NICE CXone now enables bring-your-own self-service bots for digital chat and voice such as Microsoft Azure, Amazon Lex and IBM Watson for easy low-code/no-code integration.
CXone also integrates with Google Agent Assist on voice and chat channels, driving relevant content and data to agents handling omnichannel interactions at the right time within the unified agent.
NICE also adds support for additional digital channels such as Apple Business Chat as well as 100+ languages for IVR and voice-enabled chatbots to help businesses serve global audiences. Together, these new capabilities boost CSAT, drive up containment and reduce cost to serve.
CXone Bot Builder, which allows businesses to build their own bots with a simple drag and drop, is now enhanced with advanced learning insights that enable smarter self-service.
The ability to train bots personalizes engagements and improves recognition, such as synonyms, industry terms, formats and more. Public testing makes it easy to pilot bots with real users, thus boosting bot performance and operational efficiency for the business.
For more information about NICE - visit the
NICE Website