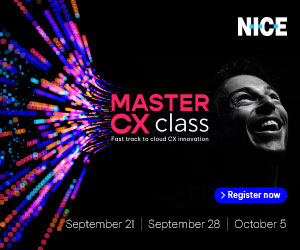 NICE has announced that Interactions Live 2022, the industry's largest customer experience virtual event, will take place May 24-25.
During the two-day conference, NICE executives, CX visionaries, industry analysts and top executives from leading brands will share the new ways to create frictionless customer experiences through a unified Customer Experience Interactions (CXi) framework.
This year's event has the most impressive line-up of guests including the 43rd U.S President George W. Bush and Oscar-winning actor and filmmaker, George Clooney.
In addition to the innovative content and rich showcase, attendees can enjoy an immersive Virtual Reality experience with a unique interactive networking opportunity.
During Interactions, NICE will also host a Virtual Investor Day on May 24, which will include product and technology sessions and presentations from NICE executives. Investors and financial analysts must register here to ensure access to the Virtual Investor Day.
"Consumers today have largely been conditioned to expect everything to be easy, effortless and instantaneous," said Barak Eilam, CEO, NICE.
"Any friction consumers experience, over digital or other channels, impacts their opinions and causes them to delineate among brands they love and those they feel are wasting their time. Interactions Live 2022 will highlight strategies for eliminating the friction that obstructs brand loyalty.
We look forward to sharing the path for redefining digital CX and embracing a frictionless future today."
With content to suit every role and interest, attendees will explore the new world of digitally fluent consumers and learn how to ensure brand devotion through a wealth of informative best practices sessions, interactive demos, educational breakout sessions, and live video chats with NICE experts.
A rich agenda featuring strategies and insights from customers with first-hand experience using NICE's technology will showcase how to master digital interactions, revolutionise smart self-service, and reinvent artificial intelligence (AI) on the journey to CX success.
Interactions Live 2022 will feature George W. Bush, the 43rd President of the United States and Founder of the George W. Bush Presidential Centre. President Bush will offer his thoughts about his eight years in the White House, the power of freedom, the role of hope, and the importance of opportunity.
Also joining the line-up is George Clooney, an Oscar-winning actor and filmmaker who is recognised as much for his global humanitarian efforts as he is for his accomplishments in the entertainment industry.
Closing the event each day, Interactions Live 2022 will rollout exclusive networking Master Classes designed to provide the perfect event experiences for attendees.
Featuring well-known celebrity reality show talent, Interactions Live 2022 will feature famed celebrity chef Alex Guarnaschelli; Emmy award-winning dancer and New York Times best-selling author Derek Hough; and acclaimed food and wine connoisseur Ted Allen.
The celebrities will take audience questions in live chat sessions conducted in real-time with the sessions.
For more information or to register for Interactions Live, click here.
For more information about NICE - visit the
NICE Website