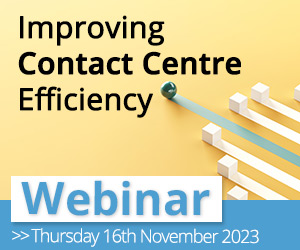 NICE has announced that Interactions Live 2023, the industry's premier customer experience (CX) event, will take place June 5-7 at the Javits Center in New York City.
During the three-day conference, NICE executives, CX visionaries, industry analysts and top executives from leading brands will share best practices in Digital, AI, Self Service, and WEM.
This will include an innovation showcase including a demonstration of how NICE is using Enlighten AI and conversational AI in CXone to become the Trusted AI for business as well as build highly effective self-service capabilities.
This year's event has the most impressive line-up of guests including multi-Emmy and Golden Globe award-winning actress Sarah Jessica Parker and multi-Grammy and Billboard Award-winning band, Train, in an exclusive concert for the conference attendees.
In a rich agenda of best practice sessions, CX leaders will showcase how brands can master CXi (customer experience interactions) using NICE's unique innovation. Sessions will also include a spotlight on Digital CX, detailing how NICE's digital solutions such as CXone Guide and ContactEngine can help build a digital contact center of the future. Sessions will also highlight agent empowerment and how service organizations can use solutions such as CXone Performance Management and Interactive Gamification to ensure agents are knowledgeable, prepared and engaged in real-time so they can create the most unique interactions.
During Interactions, NICE will host an Investor Day on June 6, which will include product and technology sessions and presentations from NICE executives. Investors and financial analysts must register here to ensure access to the Investor Day.
"AI is rapidly transforming the customer experience space," said Barak Eilam, CEO, NICE. "With the advent of generative AI, brands are presented with the opportunity to interact with their customers on another level. Interactions 2023 will highlight strategies for brilliant self-service.
The event will showcase how brands can anticipate their customers' needs and proactively interact with their customers. We look forward to sharing the path brands can take to become digitally fluent and lead in the digital and AI era."
Interactions 2023 will feature Sarah Jessica Parker, an award-winning actor, producer and businesswoman who is recognized for her immense accomplishments both on and off the screen.
NICE is excited to welcome Sarah Jessica Parker on the 25th anniversary of the premiere of her world-renowned TV series Sex And The City.
Attendees will also enjoy an exclusive, private concert from award-winning band, Train. It will be a night to remember, an unmatched experience you will only see at this year's Interactions.
Note: Select sessions are closed to the press with no personal photography, note taking or recording being permitted.
To register for the event please click here.
This blog post has been re-published by kind permission of NICE – View the
Original Article
For more information about NICE - visit the
NICE Website