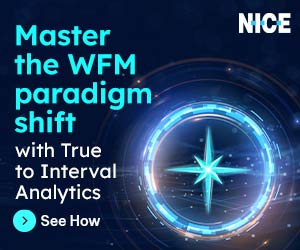 NICE has announced that it has been recognised as a 2022 MetriStar Top Provider in the Voice of the Customer (VoC) category, among a field of 16 providers.
NICE was named a Top Provider based on its superior customer ratings and customer-documented quantitative metrics demonstrating business success powered by the use of NICE VoC products and services. For a complimentary copy of the report, please click here.
According to the Metrigy report, NICE VoC success group customers achieved the following results across four business metrics:
Revenue increase of 35.8%
Cost decrease of 15.3%
Customer rating improvement of 35.5%
Agent efficiency improvement of 32.8%
"A top 10 trend in customer service is Voice of the Customer. Various departments, including customer service, sales, marketing and product development, are using voice-of-the-customer programs and analysis to make decisions, coach employees and improve products and services," stated Robin Gareiss, Metrigy CEO & Principal Analyst.
Gareiss continued, "Among a crowded field, NICE CXone Feedback Management is noteworthy for real-time feedback – from any channel – delivered straight from customer analytics to the agent, giving them the insight to resolve urgent issues of the day.
Agents can also examine performance over time and compare to others to work on long-term trending. Further, NICE VoC leverages AI to examine all customer interactions to identify how to improve important feedback metrics, such as Net Promoter Score (NPS) and Customer Satisfaction (CSAT)."
Barry Cooper, President, NICE Workforce and Customer Experience Group, commented, "NICE is honoured to be recognised as a Metrigy Top Provider for VoC based on our customers' positive sentiment and success in increasing revenue, decreasing costs, boosting ratings like NPS and CSAT, and increasing agent efficiency.
These outstanding business outcomes from using NICE VoC reflect our continued commitment to delivering customer feedback innovations – like real-time agent guidance, Enlighten AI Feedback, and automated closed loop actions – that power digitally-fluent experiences and make customers and agents feel valued and understood."
About The Study
Metrigy conducted the global Customer Experience MetriCast 2022 research study for the MetriStar report in November and December 2021 and surveyed 1,846 CX leaders from organisations headquartered in 10 countries from three regions (North America, Europe, Asia-Pacific).
For more information about NICE - visit the
NICE Website