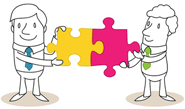 NICE Systems and Silver Lining Solutions announced a partnership that will help organizations with advanced workforce optimization (WFO) technologies.
The joint NICE–Silver Lining offering enables organizations to build a skills management strategy and measure the impact of agent training. It uses real agent performance data to create, manage, and enhance tailored training plans at scale.
Silver Lining Solutions offers two products – Optimizer and Planner:
Optimizer – identifies the performance metrics most associated with business impact, allowing organizations to deliver targeted training content.
Planner – automatically schedules and manages training plans for individual employees based on their performance.
"There is a need in the market to focus training on the right topics and to target the right people in order to create a multi-skilled workforce. The combination of NICE's expertise in workforce management and performance management and Silver Lining Solutions' ability to pinpoint and address employee skills and knowledge gaps impacting performance puts us in a unique position to meet this need," said Amanda Westwood, CEO, Silver Lining Solutions.
"We are excited to formalize our partnership with Silver Lining Solutions," said Yochai Rozenblat, President of the Enterprise Group at NICE. "It's an ideal complement to the coaching workflows and best practices library provided by our WFO solutions."
The partnership builds on prior, customer-initiated collaboration activities to improve front-line training and expand employee skill sets.
Published On: 20th Mar 2013 - Last modified: 10th Nov 2017
Read more about - Archived Content, NICE
---