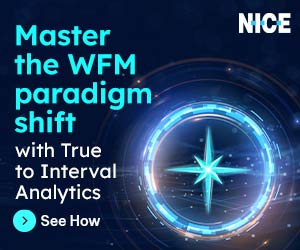 NICE have announced their next generation of customer service: Smart Digital Conversations. This technology allows enterprises of all sizes to dynamically connect with every consumer based on their preferences.
The new technology is enabled by the acquisition of Brand Embassy, a leading provider of digital customer engagement.
Embedding Brand Embassy in CXone, NICE's leading cloud CX platform, combines CXone's strong analytics and AI capabilities with Brand Embassy's groundbreaking and proven digital-first approach.
CXone powered by Brand Embassy removes the barriers that historically slowed down the customer experience digital revolution, allowing organisations to put digital at the forefront of their interactions with consumers.
CXone, fuelled with the capabilities provided by Brand Embassy, is now the only cloud customer experience platform that has the full range of integrated channels, enabling any digital channel to be seamlessly and smartly integrated into any customer service daily operations.
With over 30 supported channels, including Facebook Messenger, Twitter, Apple Business Chat, WhatsApp, LinkedIn, SMS, email and live chat, CXone powered by Brand Embassy is now the smartest and most complete cloud customer service platform for all channels.
This unique integration of CXone and Brand Embassy provides multiple advantages:
Digital service in context, eliminating "digital agent" silos – a new "push/pull" paradigm of naturally handling both real-time (e.g. voice/chat) and digital messaging interactions in one intelligent inbox
Complete digital service management across contact centre operations – the first and only unified platform with an end-to-end native integration of digital-first omnichannel management, WFO and analytics infused with artificial intelligence
The most efficient digital experience suite – fully integrated 30+ digital messaging channels with established voice and chat channels all in one native cloud platform, with full elasticity and pay-per-use model
Barak Eilam, CEO of NICE, said: "CXone is already established as the leading Customer Experience cloud platform, based on the powerful integration of the industry's best WFO, analytics and omnichannel routing in the cloud. This makes CXone the perfect choice for enterprises of all sizes as they transform to the cloud and advance to analytics."
"With the addition of Brand Embassy and its pioneering and market-proven digital experience suite, CXone now empowers organisations to also adopt a digital-first strategy, all under one platform."