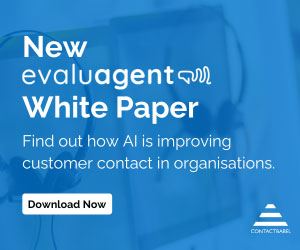 Nicereply has entered into a partnership with EvaluAgent, bringing these two best-of-breed solutions together for the benefit of fast-growing customer service teams.
EvaluAgent and Nicereply share a common mission to help contact centres measure their performance and delight their customers.
With the launch of this partnership, users of Nicereply and EvaluAgent will be able to close the loop between the voice of the customer and internal quality scores without the need to change survey supplier or invest in additional technology.
For the very first time, customer service and sales teams will be able to demonstrate the impact of agent feedback, coaching and training programmes on CSAT/NPS scores and ensures expectations of agents align to what is viewed as important by customers.
In addition, some may use survey results to prioritize which conversations are evaluated by their quality assurance teams to ensure only the best or worst conversations are analysed.
Patrik Strba, Chief Technology Officer at Nicereply, commented "We're continuously looking to integrate with best -of-breed, modern solutions that our customers are adopting.
"The combination of Nicereply and EvaluAgent is an excellent opportunity to further develop our technology and we're excited to see the opportunities that lie ahead. EvaluAgent is a partnership we look forward to building on."
James Marscheider, CCO of EvaluAgent, said: "We're enabling our customers to make more of their customer feedback.
"This premium integration is the first in an exciting roadmap of integrations and will enable customer support teams to view their customer feedback & survey results alongside their internal quality scores.
"We're excited to be embarking on this new chapter with our trusted partner Nicereply, whose experience and enthusiasm matches our own."
For more information about EvaluAgent - visit the
EvaluAgent Website