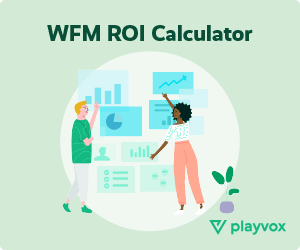 The demands of customers on businesses this past year have grown considerably. Contact centres have focused across a range of digital channels to keep up. Check out how Playvox Workforce Management helps you solve scheduling complexity in an elegant way.
The Playvox team presented a session on Optimizing the Service Heart of Modern Business at the Society of Workforce Planning Professionals annual conference. Attendees learned about industry trends and hot topics from WFM experts.
Watch the SWPP session and learn:
how the pandemic has changed the contact centre channel mix
how to manage channel preference and volume
what workforce changes foretell for staffing, scheduling, and workforce optimization
how Playvox WFM optimizes the service heart of modern businesses with its digital-first, cloud-native, and culture forward WEM solution
To watch the webinar replay click here.
For more information about Playvox - visit the
Playvox Website