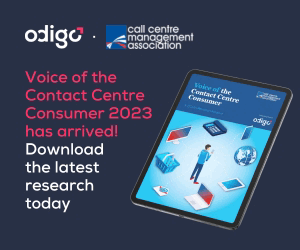 Sandra Thompson, Founder of Exceed All Expectations, gives a presentation on training emotional intelligence in the contact centre to improve customer experience.

In her presentation, Sandra also discusses how best to show empathy, change the language of the contact centre and improve leadership.
To listen to the podcast directly from this web page, just hit the play button below:
The Contact Centre Podcast – Episode 27:
Emotional Intelligence In The Contact Centre
This podcast was made possible by our sponsor Odigo. To find out more about Odigo's contact centre solutions, visit their website
To watch the full recording of the webinar that this podcast has been sourced from, click here.
Podcast Time Stamps
2:57 – Recognizing Our Own Emotions
7:35 – A Model for Emotional Self-Awareness
9:19 – The Three Types of Contact Centre Empathy
11:28 – Applying Emotional Intelligence to Our Language
16:26 – Using Emotional Intelligence in Our Leadership