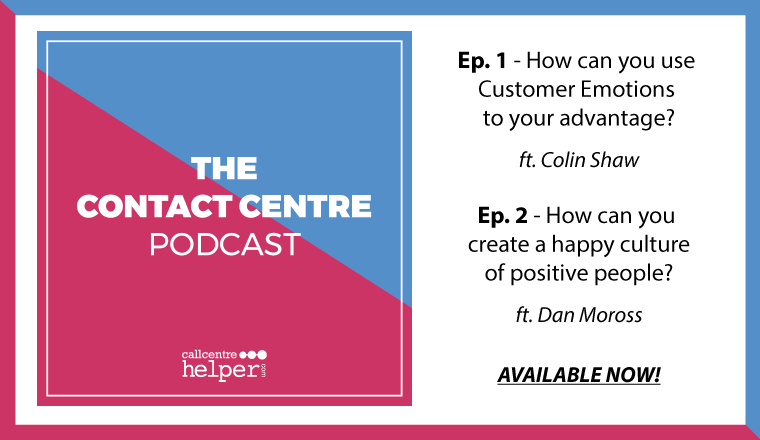 We are delighted to announce that the first two episodes of our brand-new podcast series are available for download now.
The episodes are just over half an hour long and include discussions with industry experts Colin Shaw and Dan Moross on the topics of customer emotion and contact centre culture respectively.
Both episodes can be listened to either on this webpage or through any of the following major podcasting platforms:
Apple Podcasts
Google Podcasts
Stitcher
Tune In
So, without further ado, here are the relevant links for you to click in order to listen to our podcasts, along with a short description that will let you know what you can expect.
Episode 1 – How can you use customer emotions to your advantage?
In this episode, Colin Shaw of Beyond Philosophy discusses how we can evoke positive emotions from our customers, first focusing on the wider customer experience, before sharing some practical tips for contact centres.
As part of our discussion, we also talk about creating positive customer memories, increasing employee engagement and coaching contact centre advisors.
To download the podcast on your favourite podcasting platform, follow one of the links below:
Episode 2 – How can you create a happy culture of positive people?
In this episode, Dan Moross of MOO draws on his own experience to discuss the keys to creating a contact centre culture that facilitates both learning and enjoyment.
As part of our discussion, we also talk about optimizing recruitment, bringing fun into the workplace and developing advisor skills.
To download the podcast on your favourite podcasting platform, follow one of the links below:
What's Coming Up Next Week?
The release of these two podcasts marks the start of our summer series that will see us publish weekly podcasts over the course of the next five weeks.
Next week we will be focusing on the topic of "How can you boost First Contact Resolution in your contact centre?" with Nerys Corfield, the Director of Injection Consulting.
In the following weeks, we'll also cover a number of key contact centre topics, which will include:
Contact Centre AI: What are your options? – with David Naylor of Humanotics
How can we improve Customer Journeys to create happy customers? – with Martin Hill-Wilson of BrainFood Extra
Channel Shift: How can we safely move customers from one channel to another? – with Nicola Millard of BT
Each of these topics is crucial to boosting overall contact centre performance and we hope you find every episode fun, engaging and informative.
Finally, we must add that The Contact Centre Podcast would not have been possible without the support of Genesys, a global leader in omnichannel customer experience and contact centre solutions.
If you want to find out more about their latest offering, follow the link to request a Genesys PureCloud Demonstration
We hope that you enjoy the first two episodes of our podcast series and we look forward to bringing you even more great content in the coming weeks!
Follow the link to keep up to date with all the latest information about The Contact Centre Podcast.
---