Digital channels are becoming increasingly popular, so when Marc asked our LinkedIn Community of industry professionals 'what percentage of your customers use a digital channel?' We wanted to share the results with you.
The poll received 421 responses and the results were quite surprising: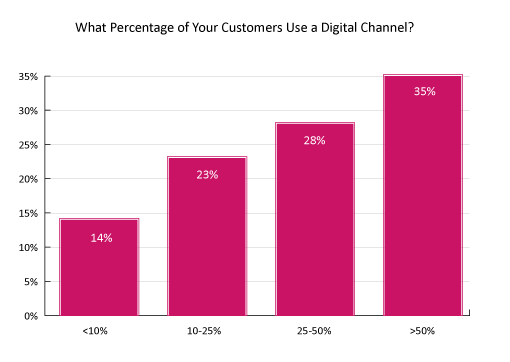 | Percentage Using Digital Channel | Response % |
| --- | --- |
| <10% | 14% |
| 10-25% | 23% |
| 25-50% | 28% |
| >50% | 35% |
Only 35% of respondents said over 50% of their customers use a digital channel, which appears quite low considering the large shift to digital that has been occurring over the last few years and the short staffing issues companies currently face.
Although it could also be interpreted that this result is a reflection on the quality of the digital channels available and that customers are struggling to resolve their enquiries independently with what's available to them.
Interestingly 14% of respondents said that less than 10% of customers use a digital channel, and altogether 65% of respondents stated that less than 50% of customers use a digital channel.
Is this a sign that customers are looking for human interaction over the phone?
Or maybe that customers are unable to resolve their enquiries using the digital channels available?
Or could it be a reflection that companies are simply not providing suitable channel options to their customers?
☆☆☆☆☆
There were also a number of comments where the respondents expanded upon their choice, and gave more context to the poll, and so we've picked the best ones to show you:
Adoption Is High in Spain
The adoption is really high in Spain, according to my experience. Lots of customers request to be contacted via WhatsApp instead of phone or mail!
Thanks to Alex
Banking Sees Digital Channels as Fast Resolution Channels
In the banking world, we see it as a fast resolution channel and we are a little late compared to other sectors, because the more stressful or complicated the resolution is, in banking, it's still and will be with the human channel.
Thanks to Carl
It Can Be Frustrating
A better question is "who does it well?" Most have less containment for self-service than their IVR. I love digital and try to use it when I can, but many options are so frustrating, I wind up picking up the phone. It is all about customer effort.
Thanks to Ken
It Should Be Considered as a "Must-Have"
Pre-pandemic, the implementation of non-voice channels proved to be a difficult task across risk and compliance processes, workforce management teams ability to schedule staff availability, the cross implementation of pure legacy voice technology vs. non-voice technology, and the ability to manage change across agent and the customer.
Post-pandemic, I believe that call centres agnostic of location and industry have evidenced that what was thought to be expensive and not a customer preference is actually very possible.
It should be considered as a must-have and no longer a nice-to-have. So many points support the business case and I believe that there should be a shift in mindset from legacy thinking to being a case of 'it's now or never'.
Thanks to Kashen
It Can Be Difficult to Manage
You can't just clarify and find a solution as quick as speaking on the phone.
Thanks to George
It Depends
I think this depends on industry and country and also size of business.
The UK like voice, webchat and I am seeing an uptake in WhatsApp. Other countries vary greatly.
It's also fine introducing digital channels, but a company has to be able to service those channels.
Thanks to Adam
Digital Will Grow
We are a company that specializes in customer service via messaging. We believe that this channel will grow more and more.
Thanks to Malte
Voice Is Always Required
We should see an exponential growth, especially when it comes to processes that are high in volume and low complexity – compared to low volume and high complexity.
There will always be a place for voice. A conversation with a customer is always required. The generation and client segment types will greatly influence the adoption of non-voice channels.
Thanks to Kashen
If you are looking for more great insights on digital channels in the contact centre, read these articles next: