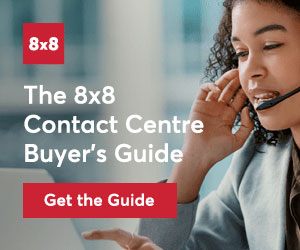 Are you thinking of moving to a cloud-based unified communications system? If so, there are a few important things to consider before choosing a provider and making the switch.
For example, how will one provider's solution serve specific departmental needs, as well as the requirements of your organization as a whole?
And how will they be able to better equip you with the required tools to simplify your communications infrastructure while increasing collaboration and user productivity? Plus, don't forget to consider the cost, both one-time and recurring, when comparing solutions.
Use these five questions below to guide your journey and ensure that you have all the facts you need to evaluate UCaaS providers.
1. Is Your Unified Communications Solution a True Cloud Offering?
There are true cloud solutions, hosted solutions, and hybrid cloud solutions on the market today that all fall under the "cloud solution" umbrella.
A true cloud UC solution offers full PBX functionality, as well as video meetings and collaboration features all on a self-owned and maintained single, global platform.
With a hosted solution, the PBX and any other hardware needed to support your UC solution is hosted at the UC vendor's data center(s). Hybrid cloud is another way of saying partly on-premises. Often, legacy UC providers will offer a hybrid solution as a step towards the cloud.
The true cloud choice is increasingly becoming organizations' top choice, due to its security, simplicity, and reliability, with built-in disaster recovery, seamless integrations, advanced data and analytics, and more.
2. How Will Your Cloud-Based Unified Communications Solution Increase Productivity Within My Organization?
There are plenty of ways that a cloud-based UC solution saves a business time and increases productivity. A true UCaaS solution should include enterprise voice, messaging, video conferencing, and contact centre as components of the overall solution. When it comes to ensuring an increase in productivity, look for these crucial elements:
One vendor and a single solution that meets your business' global communications needs
Financially-backed, platform-wide 99.999%  uptime SLA
Integrations with other productivity and business applications
Simple provisioning, MACD/system management, and user self-service features
3. How Does Your Solution Support a Mobile and Distributed Workforce?
Many organizations are now opting for a mobile-first strategy, replacing traditional desk phones with smartphones and tablets. The pandemic sped up the move to hybrid and remote work models, which have now become a business norm.
Plus, millennials are quickly becoming the most influential population in the workforce, and over the next few years, they will make up the majority of the workforce.
When choosing a UCaaS solution, be sure to ask how their solution supports mobility. Pay close attention to the mobile application—specifically feature parity, look and feel, and usability on the go.
4. What Is the Process for Expanding Your UCaaS Solution to Accommodate Business Growth, Including Needs Outside of the U.S.?
A true cloud communications platform will grow with you, simply and seamlessly. Adding a new user or a new location should be a matter of licensing and provisioning—that's it.
Your business communications platform is the lifeline of the organization, and you can't take the risk of downtime.
Ask the provider to offer details around their data centres and procedures, including business continuity plans. Ask how localized calling experience is provided with their solutions, and watch out for workaround words, such as "gateways" and "local carriers."
5. What Is Your Implementation Process?
In order to realize the benefits of a cloud communications platform, you need a holistic view of the technologies that exist within your organization today, the desired outcome for your organization, and a team of true unified communications experts to efficiently and effectively bring it all together.
Cloud communications offer rich functionality and great performance, irrespective of the device, mode of connection, or user's location. They are also able to adapt to changing traffic patterns and user behaviors with no impact to quality and experience.
In addition, with the evolution of technology, cloud solutions support high availability and quality of service, and even offer financially-backed uptime SLAs, even on public internet connections, simplifying connectivity requirements for branch and remote users.
Partner with UCaaS providers that offer cloud communications expertise to help you design a solution to meet your specific business needs and implement the solution in lockstep with your project management organization.
This blog post has been re-published by kind permission of 8x8 – View the
Original Article
For more information about 8x8 - visit the
8x8 Website