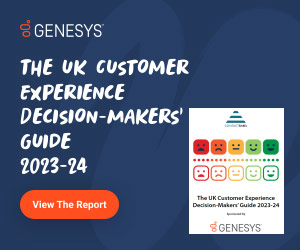 Gianluca Salvaneschi of Genesys shares his approach to connecting the dots within your digital customer experience strategy.
Contact centre strategy is entering the next phase – a dynamic shift from coping and surviving to optimizing and prospering.
Putting together a high-performing remote workforce and winning digital strategy go hand in hand.
However, beware. Each time you open a new channel you're not necessarily getting rid of another. Often you end up creating more interactions to manage with the same budget and resources.
So, how can customer experience (CX) leaders reconnect with digitization? How can they accelerate their plans and what will that blueprint look like in the new normal?
Understanding Your Customer Relationship Now
Digitization is being driven by consumers, so let's start there.
In many sectors digital has overtaken traditional voice channels.
A Frost & Sullivan survey of 600 business and IT decision-makers found only 60% of respondents support inbound calls, compared to 86% for email, 84% web (websites, forums, FAQs and webchat) and 70% social media.
The good news is that millennials are the only demographic who tell more people when they have a good experience rather than a bad one, according to American Express research.
So engaging your digital audience is likely to grow referrals and improve your customer experience metrics scores.
Millennials are also willing to pay 21% more to do business with companies that excel at customer service. 
Digital Service Becomes the New Normal
Digital strategy has always been a key enabler for remote working. And it's still the best way to manage your workforce, control costs, and ensure employee and customer satisfaction.
Yet success takes more than just meeting customer demands. The trick is to anticipate their needs and deliver highly personalized, omnichannel experiences that are both context-based and low effort.
For one Orange Business Services customer, an online coffee retailer, that meant installing AI-powered chatbots to guide customers through their purchases.
Now the sales process functions perfectly well, largely without any human intervention. And it's much easier for the company to gather insights, profile customers and personalize journeys.
Empowering Your Digital Workforce
Digital customers don't forgive or forget. They expect stunning service and the freedom to engage with your business on their terms: via email, chat, co-browsing, social and video. So your agents need to be brilliant when it matters most. Which is all the time.
That means giving them all the tools they need to increase first contact resolution. They desire one easy-to-manage omnichannel desktop, rather than a bunch of siloed products that require multiple screen jumps and data entries.
When that happens customers get a slow, bumpy ride and have to repeat information. They become frustrated and go elsewhere.
Digital empowerment also adds enrichment and variety, in turn increasing job satisfaction. Happy agents are more likely to go the extra mile to delight customers.
Ditching manual resource scheduling with data buried on spreadsheets and instead automating workforce management so you can execute skills and schedule changes in one place saves heaps of time and hidden costs.
Simple Steps to Kick-Start Your Digital Strategy
In the case of one customer, a local government agency, the first step was to automate the handling of FAQs with voicebots.
Released from basic tasks, agents have more time to deal with complex enquiries that need empathy and sensitive handling.
One of the biggest causes of revenue leakage are window shoppers who ghost in and out of websites, leaving discarded shopping carts in their wake.
Predictive engagement solutions help to join up the dots on website journeys, leveraging AI and analytics to uncover behaviours and interests of visitors and offer tailored deals through webchat.
A well-known airline did just that. Conversion rates rose by 14% in the first two weeks and by 49% at the six-week stage.
Also, customers get served faster via chat. As a result, average dwell time dropped by 72% to 2 minutes 45 seconds.
Data captured by these tools is also helping the airline's marketing department improve customer offerings based on new insights into demographics and behaviour.