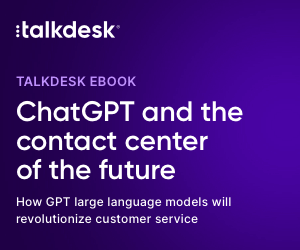 Steve Bell of Talkdesk shares some advice for avoiding your outbound calls falling foul of "scam-likely" warnings.
Best Practices to Avoid "Scam Likely" Labels on Automated Outbound Calls
If you're a business doing any kind of automated outbound dialing you run into the problem of caller IDs being labelled as "Scam Likely", especially if you're calling mobile numbers.
This is due to the proliferation of illegal robocalls. In an effort to combat spam and scam calls, many carriers have adopted new technology that allows call recipients to flag numbers as "Spam Risk" or "Scam Likely".
When a caller ID shows this information to a recipient, they can choose whether or not to answer.
3 Ways "Scam Likely" Caller IDs Impact Your Outbound Calls.
Businesses that use legitimate automated outbound calls (i.e. dialers) may have their numbers incorrectly marked by scam ID technology, particularly when calling cell numbers. With over 80% of the American population owning smartphones, your calls must reach your customers. Numbers showing a flag for "scam likely" will:
Prevent people from getting your calls. If a customer has a scam-blocking app enabled on their phone, they won't receive your calls, resulting in lost leads.
Convince people to ignore your calls. People tend to ignore or decline calls that have scam warnings, which could lead to miscommunication and lost leads as well.
Create customer dissatisfaction. When customers don't receive a call they're expecting, they can become frustrated with your business. Miscommunication can lose you customers, especially if it prevents you from delivering your product or service on time.
If your phone number is showing as "Scam Likely", there is no process to get your caller ID cleaned up. The best solution to this problem is to ensure your business is dialing correctly to avoid getting flagged.
How Do You Get Flagged?
Your outbound phone number can receive flags in one of two ways. Either by the carriers, if you are making too many outbound calls, or by the consumer manually blocking your number through a call-blocking app.
Carrier-Flagged: Carriers watch for how many calls they get concurrently or overall from a unique phone number, and most have built-in thresholds. For example, if a single number is making more than 10 calls a minute, more than 100 calls a day or over a certain amount for the week, it can be determined that this activity is not originating from human dialing.
In these instances, the carrier can assign a flag score to your number indicating that it is likely robocalling.
While carrier tools successfully block many illegal calls, legitimate calls can be blocked as well. Because the system looks only for high-volume originating numbers, the service may mark legal robocalls, such as calls from non-profits, as "Scam Likely".
The decision about whether and how to display an incoming call as potentially problematic is up to the recipient's carrier—and each carrier has its own approach.
Consumer-Flagged: Over the last several years, many apps have been developed to allow consumers to identify and/or block potentially unwanted incoming calls. While good dialing practices can reduce the risk of carrier flags, your business is ultimately at the mercy of the consumer.
With call-blocking apps, your numbers can get flagged by anyone for any reason.
Some people avoid calls from all unknown numbers. As a result, some customers may report your number without answering the phone. If this happens enough, your number will be marked "Scam Likely". One block will likely not lead to a flag on your number.
However, if the app sees that your DID is receiving multiple blocks, it will label your number as a "spam call" or "Scam Likely".
How to Avoid Getting Flagged?
Carrier-flagged: This type of flag can be avoided by ensuring the dialer you are using is configured with the proper features and you are applying the proper dialing practices.
Using a dialer inappropriately can cause your number to make more outbound calls to connect, raising the likelihood of getting flagged. Recommended dialing practices include:
Multiple caller ID: Cycle through a set of valid caller ID numbers to reduce the total number of calls from a single number.
Local presence: Obtain a number for every region, state or area code you are calling, and automatically change to that caller ID when calling that area.
Area mixing: Mix up the geographic area you are calling to spread calls over as many receiving carriers and call-blocking systems as possible.
Mix cold and warm prospects: Dial a mix of cold and warm prospects from the same line to help improve your overall rate of successful connections.
Use Caller ID Name (CNAM): This displays the name of the calling party, minimizing the risk of someone tagging it as spam.
Ultimately, letting your numbers cool off by having several numbers you can swap out can help reduce the carrier flag over time, but this isn't a fool-proof strategy.
Consumer-Flagged: Typically, call-blocking apps only work with particular carriers. If your number gets flagged on a particular app, your caller ID may only show "Scam Likely" on some carriers.
Due to the fragmentation of the data, this means that some people will see "Scam Likely" while others will not. The best way to avoid consumer flags, in conjunction with proper dialing practices, is to use ethical scripts when dealing with customers and make sure they can get in touch with you in a timely manner.
Best Practices to Avoid "Scam Likely" Labels
Your ability to reach customers is an essential part of keeping your business running. To avoid "Scam Likely" labels your general business strategies should include the following best practices:
Understand the FCC's robocall laws (U.S.) to help you stay off scam number databases.
Call responsibly. Don't call the same number more than a few times a day.
For higher volume contact centers, change phone numbers often.
Minimize hanging up on people if you're running a dialer. Maintain a < 3% drop rate (U.S. regulation).
Make sure people can reach you if they call back.
Register your number with the major caller ID reputation registries.
This blog post has been re-published by kind permission of Talkdesk – View the
Original Article
For more information about Talkdesk - visit the
Talkdesk Website