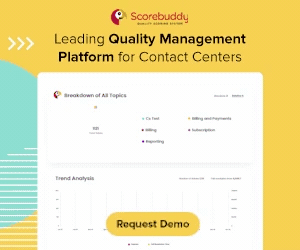 For the fourth quarter running, independent research firm G2 has named Scorebuddy a Leader in contact centre quality assurance.
The software comparison site requires an organization to have "substantial market presence scores" and high user ratings to place in the leader quadrant of the G2 grid.
At Scorebuddy, we pride ourselves on helping customers, so we're delighted to know that the people who use Scorebuddy on a daily basis are pleased with their experience. Derek Corcoran, Scorebuddy Founder and CEO, shared his thoughts on the news.
"The G2 Grid Report is the gold standard in software comparison so I'm thrilled to see Scorebuddy in the Leader quadrant for contact centre quality assurance once again. It's our fourth consecutive Leader ranking and I'd like to thank our customers for getting us here.
Their positive feedback is the driving force behind our success in this area—and a huge motivator for the entire Scorebuddy team. This continued recognition from G2 will push us to maintain these high standards and develop the platform even further in the near future."
In the Spring 2023 edition of the G2 Grid Report, Scorebuddy has been recognized as an overall leader in contact centre quality assurance, a momentum leader, a mid-market leader, and a small business leader. We've also been commended for providing the "Easiest Admin for Small Business" and received a "Users Love Us" badge.
The G2 Grid Report is based on a minimum of 10 reviews and ratings, using data gathered by March 7, 2023, with products ranked on the basis of customer satisfaction and market performance. The G2 Grid consists of four categories.
Why Scorebuddy is a Leader
We provide an integrated quality assurance solution that transforms contact centres by scaling QA, boosting customer experience, engaging agents, and mitigating risk.
Using a flexible scorecard builder, in-depth reporting, and an integrated learning management system, Scorebuddy delivers a better experience for both agents and customers. Scale your quality assurance to match your ambition with Scorebuddy.
What Customers Say About Scorebuddy
With new technologies emerging on a near-daily basis and customer expectations rising, running a successful call centre is more challenging than ever.
We help our clients meet this challenge by streamlining workflows, automating menial tasks, and enhancing agent-supervisor communication. Scorebuddy is accessible, easy to implement, and capable of delivering measurable results in just six months.
Check out what some of our customers have to say below or read all of our G2 reviews here.
"This is the most feature-rich quality monitoring tool I've ever worked with, it's quite detailed and super user friendly, I've never worked on a better tool before." – Sanmeet S, Learning & Quality Manager
"It's reliable, flexible and intuitive to use. Support and account management has always been great." Matt K, Enterprise Client
"After more than eight years of using Scorebuddy with three clients, I can't remember a single downside. Even their support team is very responsive in a timely manner." – Roy O, Mid-Market Client
"An amazing tool when doing deep dives as it allows you to search through huge databases using very specific sets of parameters and keywords." – Aleksandar T, Enterprise Client
This blog post has been re-published by kind permission of Scorebuddy – View the
Original Article
For more information about Scorebuddy - visit the
Scorebuddy Website