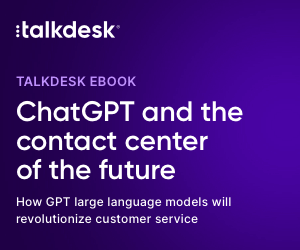 Jennifer Bonacci at Talkdesk describes how contact centre agents that were once seen as non-strategic are now being recognized as the face of the company, providing the customer with a comprehensive service and sales experience.
The question is: how can you leverage these two developments to turn your contact centre into a profit-generating asset? Brick-and-mortar experiences may be crumbling, but digital interactions are growing by leaps and bounds, and savvy companies are taking heed.
This channel shift means contact centres have emerged as the new secret weapon to engage customers and elevate relationships.
To take full advantage of this increased prominence within the customer journey, companies are equipping their service and support staff with new technologies and skills to upsell and cross-sell, all while still efficiently handling service calls.
The Goldmine in Pairing Data With a Better Customer Experience.
Contact centre agents get to learn a lot about your customers and how they feel about your business. The very nature of their job gives them deeper insights into customer issues than anyone else in the company—their pain points, what's working, and what's really important to them. Basically, all the data that matters.
But these insights are only valuable when they are accessible to all your agents across all your channels. An exasperated customer who's had to wait on hold, repeat their name multiple times, be transferred to different agents, and reach out to the contact centre at a time inconvenient to them is not going to be in the right frame of mind to hear an agent try to upsell them, no matter how helpful or relevant the product may be.
To find common pain points and challenges in providing a seamless, frictionless customer experience it's imperative to first map the customer journey holistically. The next step is to ensure agents have full visibility into the customer's history and interactions with the company.
Having all the customer data on a "single pane of glass" in front of the agent provides context and prevents the agent from blindly trying to turn a service call into a sales call.
Optimizing Automation and Human Ingenuity.
It is no longer possible to manage the amount of transactions, engagements, and data that flow through the contact centre—and provide customers the level of service they've come to expect—without implementing some level of automation and self-service capabilities.
Automation up-levels the customer experience and makes the agents' day to day lives easier—and supervisors and hiring managers benefit as well. With automation alleviating routine tasks, understaffed contact centres can optimize their processes, headcount can be consolidated, and skilled agents can be fully utilized.
Tasked with more meaningful work, engaged agents report higher rates of job satisfaction, which leads to a decrease in the overall attrition rate.
In addition, automation makes room for contact centre agents to leverage their proximity to the customer and develop deeper relationships that bring long-term value.
Some companies have gone so far as to assign sales quotas and incentives to their contact centre agents—allowing them to draw revenue directly from the contact centre and attract more skilled agents with higher compensation packages.
Making Omnichannel a Strategic Reality.
Automation is important for another reason: the increasing complexity of the customer journey. With all the different ways customers can (and do) interact with a brand, the more challenging it becomes to collect and leverage their data for better support and upsell/cross-sell opportunities.
Whether it's moving between agents, going from speaking to an agent on the phone to moving to chat and then following up with a text message, there needs to be continuity. The full context of the interaction needs to always be present in order to deliver the personalized, tailored service the customer expects.
Without it, it's impossible to uncover a potential sales opportunity or create brand loyalty. Data collection across channels is important, but what is critical is the ability to aggregate all of that customer journey data into one spot.
The challenge isn't in collecting the data—it's the siloed way the data is stored that is preventing companies from providing an optimal customer experience or making an additional sale.
And customers aren't immune from the fallout of this challenge, either. At this point, customers are accustomed to giving their data to companies—that's not what's frustrating them. Customers are frustrated because they aren't gaining any benefit from it.
It's likely that the more channels a company has, the more times a customer will need to identify themselves, repeat their contact information, and explain why they are reaching out in the first place.
A poor omnichannel data strategy puts a company on the fast track to losing a customer to a competitor with a more seamless customer experience and integrated data platform.
So the more a company can do now to start developing a strategy—build a platform that can aggregate data, create a more standard data model, and introduce stricter data standards into the organization—the more benefit it will yield now and in the future.
The Contact Centre of the Future Is Unified and Profitable.
The big reveal is that your company already has part of the foundation it needs to start turning your service department into a profit centre that will drive revenue and promote repeat business: agents and data.
What is needed now is developing a strategy around how to best leverage both, and what is the right technology for your organization.
If you haven't been mapping your customer journey beyond just a few engagements, try to think about what that looks like outside of the boundaries of your organization. Also, think beyond the needs of your company today and include where you are planning to be in the future:
How are people engaging with your company? Through Reddit? On Twitter? By word of mouth?
Will your data include different languages?
At the same time, start to think about data standards and the best data model for your company and begin to bring all that data you're collecting into a centralized place.
Engage with an expert who can help you set those standards up at the beginning so you don't find yourself trying to retroactively fit data into a model that doesn't quite fit it:
How much do you predict your data will grow in 3 years? 5 years?
How much storage will you need?
What type of analytics will be required?
Finally, look for a CCaaS provider that specializes in matching companies with the right systems to meet their needs and reach their goals. Mapping the customer journey and ensuring a seamless customer journey requires an end-to-end solution that solves for the customer experience as a whole.
A solution that can help you collect and utilize data to engage with your customers in a more personal and tailored way and bring value to your brand.
Choose an omnichannel solution that focuses on smartly automating as many tasks and activities in the contact centre as possible using artificial intelligence (AI) and machine learning in a practical way—AI can act as a partner to the agent to make that task a little bit easier, a little bit faster, and remove needless repetition.
By taking these steps and leaning on industry experts to help guide you, you'll find that a unified contact centre is not only attainable—it's also profitable.
This blog post has been re-published by kind permission of Talkdesk – View the
Original Article
For more information about Talkdesk - visit the
Talkdesk Website