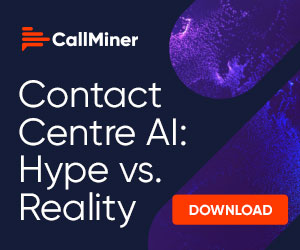 CallMiner identify five key trends within the contact centre industry to boost advisor engagement.
Contact centres with engaged employees often cite better productivity and higher levels of happiness amongst their employees, improved customer service and retention, and, of course, higher profits. Still, according to a report by Gallup, roughly 85% of the global workforce is disengaged at work. And when employee engagement takes a back seat, everything from office culture to the bottom line suffers.
How do you improve employee engagement in today's contact centre? By giving agents a sense of purpose through open and honest communication, enhanced visibility into day-to-day operations, and a better employee experience, which in turn improves the experience for your customers.
1. Consistent, Automated, and Real-Time Agent Feedback
Annual performance reviews aren't as practical as they once were. Today, more and more managers realise that the key to an engaged workforce is consistent feedback that reminds employees of objectives, reinforces expectations, and takes stock of strengths and weaknesses.
Of course, not every office setting can accommodate regular one-on-one meetings with each employee. That's why contact centres are turning towards software to help provide real-time, practical and personalised feedback, offering insights on areas of improvement while rewarding agents for the activities they already excel at daily.
In doing so, it helps contact centre managers continually steer agents in the right direction. And, best of all, employee engagement software solutions can give users automated feedback, meaning employees don't even have to leave their workstations to find out what's working for them and what's not, freeing up time for managers to focus on more pressing matters.
2. Enhanced, Continuous Training Through Personalised Microlearning
According to a report compiled by Cornell University, call centre agents typically receive 15 days of initial training. That's a lot of hours' worth of information to retain, so it shouldn't be a surprise that it's easy to overwhelm new agents.
To make sure they're not missing any key details about the job, it's important for contact centres and call centres alike to engage with their agents regularly in the form of microlessons that provide agents with learning opportunities through bite-sized, educational moments that make it possible for training do be done on the fly.
An easy way to do that is with call centre games and challenges that boost motivation and improve performance while they work. (More on that later….)
3. Finding Ways to Engage With Millennials
By 2020, roughly 50% of the global workforce will be occupied by Millennials—the demographic cohort consisting of people born between 1982 and 2000. By 2025, that number is expected to grow to 75%.
That means there's not a lot of time for contact centre managers and business leaders to get new employee engagement strategies in place that effectively engage, motivate, and appeal to this new generation. (And trust us: they operate a lot differently from the Baby Boomers and Gen Xers of old.)
Given the high turnover rate in today's industry, learning how to engage with their Millennial employees is something most businesses can't afford to ignore in 2019.
4. Improving the Employee Experience
You've likely heard the age-old business mantra "the customer is king". But, increasingly, businesses realise that to deliver superior customer service worthy of royalty, they have to treat their employees likes kings and queens, too.
That's why contact centres are putting the employee experience at the top of their employee engagement strategy in 2019, increasingly focusing on workplace culture, professional development, team building, and other areas of improvement mentioned earlier (not to mention technology that can facilitate the process).
By putting employees first, businesses are able to ensure better that agents will do the same for their customers.
 5. Using Gamification to Drive Performance and Employee Engagement in all Areas of Day-to-Day Work
High turnover rates continue to be a problem in today's contact centres, and a lack of employee engagement is often considered to be a source of the problem.
But while the cause of high turnover rates is somewhat debatable, the effect of incorporating game-like principles on improving everything in your workplace from office culture and performance metrics to learning and personal growth is clear.
By adding elements of employee recognition, competition, and development in the form of employee engagement solutions that leverage gamification (think call centre games, rewards, and friendly day-to-day competitions), contact centres can facilitate personal and professional growth, reducing the likelihood of attrition in the long run while boosting team performance.
After all, who says work can't be fun?