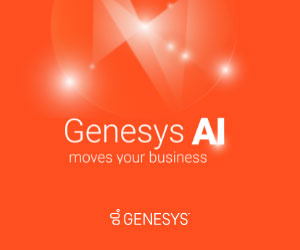 More than seven-in-ten contact centres at UK companies (71%) were not fully prepared or equipped for remote working when COVID-19 lockdown restrictions were imposed.
This is according to a recent nationwide survey of 150 UK contact centre managers and executives conducted by Genesys, the global leader in cloud customer experience and contact centre solutions and IST, a customer experience technology specialist.
Some businesses were prepared for remote working, with 29% saying their contact centres were fully enabled.
However, two-thirds (66%) had to invest in additional hardware, such as laptops, media servers and networking devices.
The nationwide survey of UK contact centre managers found more than a quarter (28%) had to purchase additional remote-working licenses, and 14% needed to implement new automation, while almost one-in-ten (9%) needed new port licences to accommodate increased call volumes.
More Than Half of UK Contact Centres Fully Remote
The survey found that more than eight-in-ten managers (82%) said 75% or more of their contact centre staff are working remotely and more than half (54%) have 100% of their contact centre agents operating remotely.
However, nearly two-thirds of UK contact centre managers (62%) say their experience of operating under COVID-19 conditions has made them realise cloud contact centre solutions are as good as or even better than on-premises solutions. Almost four-in-ten (38%) said cloud contact centre solutions are superior.
"The pandemic has put contact centres in an unprecedented situation. Businesses needed to either move staff remote, or ensure strict social distancing regulations in the workplace," said Mark Armstrong, sales director for commercial and mid-market at Genesys.
"While businesses were addressing the health and safety of their workforce, they also needed to deal with an increase in demand."
"Leveraging technologies such as the cloud has provided businesses with the tools to handle the challenge, whilst ensuring high levels of service to consumers."
Employee Wellbeing Biggest Challenge During Pandemic
58% of contact centre managers said ensuring staff wellbeing was their biggest challenge whilst transitioning to remote working.
More than a third (35%) said the restraints imposed by their current technology give them the biggest headache, while for 34% it is maintaining the effectiveness of their workforce.
Over a quarter (26%) said enabling remote working was their greatest difficulty, along with lowering contact centre demand. Only 18% said budgets are currently their main challenge.
Responding to Volumes
Based on interaction data from the industry's leading cloud contact centre platform, Genesys Cloud, between Q4 2019 and Q1 2020, UK businesses saw an increase of nearly 33% in customer service inquiry volumes.
Dealing with the increase in demand, businesses were asked what technologies could help contact centres manage these increases.
Chatbots came top, selected by 34% as a priority for businesses looking to provide quick answers to frequently asked questions, such as opening hours. Knowledge base self-service was on the wish list for almost as many (32%).
Nearly 30% want to introduce robotic process automation (RPA) to assist agents and exactly a quarter (25%) want to see implementation of voice biometrics to identify callers, save agents time and eliminate frustrations.
"The UK was quick off the mark in responding. Within the first two weeks of the pandemic really hitting many organisations were able to move staff from the office and enable remote working," said Josh Ayres, UK country manager for IST.
"However, this wasn't a smooth transition. Multiple issues arose from lack of hardware and security to licensing and VPN access."
"Had these organisations been on cloud contact centre platforms they would have been better equipped for remote working due to the lack of physical technology and software licenses required, but also the ease of adding solutions such as robotic process automation and chat."
Find out more about transitioning from an on-premises contact centre solution with IST Networks and Genesys, visit: www.istnetworks.com/purecloud