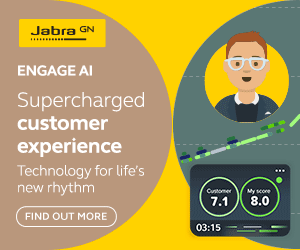 Productivity has increased due to the current lockdown situation, according to UK workers.
The majority (56%) of workers who don't usually work from home feel more productive than in the office.
Despite this, 50% of those currently working from home are looking forward to their workplace reopening, although 70% hope their employer lets them work from home more often in future.
Nearly half (45%) of workers would therefore welcome a flexible office arrangement that allows them to split working time between the office and home.
These insights have been unveiled by Jabra and Opinium research among employees who are working from home during the pandemic.
Flexible Working
This pandemic has increased the appetite for flexible working environments.
Seven in ten (70%) workers who don't usually work from home say that the current climate has shown that a physical workplace is not necessary to be productive.
For over half of them (53%) not having to commute allows them more time to do work.
Continuing to work from home is particularly popular among the younger (18-34 years) workforce (52%), as well as those with children under 18 (53%), who want to continue working from home.
Employees are demanding clarity on future arrangements, as a majority (51%) wish their employer would be clearer about possible working patterns going forward.
Employers Should Offer Better Tech
Another challenge for making flexible workplaces a future-proof solution is technology.
Of the people who feel less productive when working from home (25%), almost a quarter (23%) say they are distracted by children, while the same number (23%) blame the lack of equipment.
Less than a third of workers (30%) say they've been given the right accessories to be productive, but almost half (46%) say they wished their employer offered more tech support.
For a third of homeworkers, headphones and audio video devices (31%) are essential to their productivity.
Other tech considered paramount is (mobile) phones (45%) and dual screens (34%).
Previous Jabra research from 2019 showed that a large proportion of office workers are distracted by the noise of phone calls or colleagues talking.
A huge 45% of respondents say they feel more productive at home simply because of the lack of colleague distractions.
But many workers feel less productive because they are not able to easily talk to their teammates (44%), proving the need for the right software and hardware tech for all workers in order to improve collaboration and productivity.
Having access to the right collaboration platforms like Teams and Zoom can also help those feeling lonely (23%) to interact with colleagues.
Nigel Dunn, Managing Director EMEA North at Jabra, said: "Being able to both concentrate and collaborate efficiently is key for creating productive working environments, whether in the office or at home."
"When you have the right equipment, anywhere is an office or meeting room."
"Whether it is by shutting out noise with active noise cancellation in headphones or making crystal-clear calls, providing the full picture with a 180o camera or omni-directional audio in speakerphones, productivity does not have to be compromised by location."
For more information about Jabra, visit www.jabra.co.uk