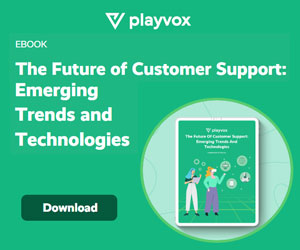 Playvox announced that it is a leader in the Spring G2 Report for Contact Centre Quality Assurance.
Also, the technology vendor is ranked number seven in the G2 Spring 2021 Top 100 Best Software Products/Highest Satisfaction Products.
In the following three categories, Playvox ranked number one:
Best Usability (9.4/10)
Best Relationship (9.7/10)
Meets Requirements (9.4/10)
"Rankings on G2 reports are based on data provided to us by real users," said Michael Fauscette, chief research officer, G2.
"We are excited to share the achievements of the products ranked on our site because they represent the voice of the user and offer terrific insights to potential buyers around the world."
Playvox received the highest satisfaction score among products in Contact Centre Quality Assurance. Also:
97% of users rated it 4 out of 5 stars
91% of users believe the company is headed in the right direction
95% of users said they would likely recommend Playvox
In the G2 Grid Spring 2021 report for Contact Centre Quality Assurance Software, Playvox ranked as a leader in High Performer.
G2 scores products and vendors based on user community reviews as well as data aggregated from online sources and social networks which are then mapped to G2's proprietary grid.
For customer stories on Playvox's workforce engagement management suite, click here.