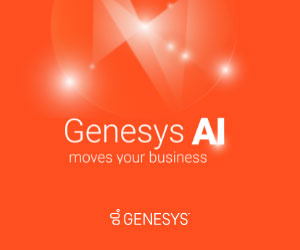 Denise Hamilton of Genesys shares five ways of using your contact centre's CRM system to its full potential.
CRM systems enable companies to manage relationships and interactions with customers and clients — and serve them more efficiently and effectively.
But many businesses aren't taking full advantage of how CRM systems can boost customer service. And it's becoming even more of a differentiator.
In its annual analysis of the CRM software market, Gartner took an interesting turn on this topic in 2018.
In addition to reporting strong growth in technologies and applications that power great customer experiences, Gartner introduced a new category called "Customer experience and relationship management (CERM)."
CERM signals the convergence of CRM and customer experience markets. It's a dynamic driven by the need for a single view of the entire customer journey to optimize customer service and support.
Here are five ways that you can leverage your CRM system to improve your customer service.
Proactively Support Customers via Self-Service
Most customers will attempt to handle issues on their own first, before interacting with a call centre. By implementing customer self-service channels that leverage your CRM knowledge content, customers have immediate, on-demand answers that eliminate the need to call in and wait for a live agent.
These initial attempts at self-service often include Google search, your website or automated customer service chatbots.
Knowing this is where customers prefer to go first creates an opportunity to proactively support them by extending the right public-facing knowledge content into the channels that customers use for self-service.
In this way, you'll provide always-on self-service experiences that bolster contact centre efficiency in a few important ways.
Delivering knowledge content through self-service experiences eliminates simple interactions that overburden the first line of support, such as password resets or account look-ups.
Reducing common interactions with the contact centre cuts the rising costs of using human agents for every customer interaction.
A traditional voice interaction, on average, costs $15 per interaction. An interaction with a virtual agent costs less than $1.
Use CRM Data to Personalize Customer Engagement
Personalizing email subject lines and adding a customer's first name is an easy step that makes a big difference.
According to Campaign Monitor, 72% of customers open an email due to the discount it offers. A personalized subject line entices 62% of customers to open the email.
But that's only the beginning. The real value is hyper-personalization — presenting each customer with offers and relevant information that's highly customized and based on their interests, purchase history and other details captured in your CRM system.
It's more than a generic-looking avatar that asks "Hi, how can I help you?" And it's way more than profiling, too.
For example, consider "Charles" and "Ozzy". They both live in castles, both were born in 1948 in the UK, both married more than once and have multiple grown children.
Profiling would identify them as being very similar and provide them with similar offers and service. But a company that leverages customer history and real-time context to provide hyper-personalized customer service would know their differences.
One customer is Charles, the Prince of Wales, and the other is Ozzy Osbourne, the self-proclaimed Prince of Darkness.
Keep Customer Experience Consistent Across All Channels
Being able to create a consistent experience is another way to use CRM systems to improve customer service overall. And consistency is what customers expect on all channels and devices.
It doesn't matter whether their past engagement was on the phone with a different department and the current interaction is a chat or on any other channel. Customers see all the areas of your business as a single entity — not individual silos.
Placing the same knowledge content your agents use into the channels your customers use ensures a consistent message and experience.
Aside from making self-service the best first choice for customers, consistency improves brand reputation, loyalty and satisfaction. Automating processes is an easy and effective way to do this.
For example, if a customer fills out a contact form on your website, your CRM system can send them a thank-you email instantly.
Within this email, you can tell them someone will be in contact as soon as possible. Then, your system can automatically alert an agent to contact that person. This ensures that no customer interaction is an isolated experience, which can cause inconsistent responses.
In addition, it ensures that every customer enquiry receives an appropriate response.
Learn More About Your Customers and Shape Their Journeys
Businesses benefit most from insights that extend beyond optimizing standalone transactions, so they can effectively answer questions like, "What's the best way to engage based on customer history and preferences?" and "What resource (either live or bot) is available now that is most likely to produce the outcome the business needs?"
Also, they'll know how to progress customers to the next step in their journeys. The answers require a seamless integration of all points of interaction.
Learning as much as you can about each of your customers is a key way that CRM systems support customer service. Using real-time analytics, you can discover what content and products your customer is interested in based on their browsing patterns.
For example, if they downloaded an asset relating to a particular product, you can tailor an offer to suit them when they return. This improves their experience and drives new revenue opportunities.
Improve Interaction Quality With Empowered Agents
When self-service isn't enough and customers need to interact with your contact centre, they've probably already received answers to the easy questions.
By freeing up your customer service agents to offer more specialized, one-on-one assistance, they're in a better position to close more deals or improve complaint resolution. Here's how.
As customers engage with self-service content, their usage and performance of that knowledge content is captured by the CRM system. And that system can hand off this real-time information to agents. When AI-powered automation integrates with CRM systems, employees have a 360-degree view of all activities related to each customer.
With access to data-driven recommendations for best next steps, agents spend less time figuring out the best action to take next. They also don't need to ask the customer to repeat details.
Instead, they can focus on what they do best: driving better customer experience.
Take the Holistic Approach to Customer Service
Merging customer service with the power of CRM systems offers distinct advantages to customers, your agents and your business overall.
When you understand how prospects and customers navigate your site, which channels they use — and how they use them — you can develop a customer service strategy that supports the experience they prefer.