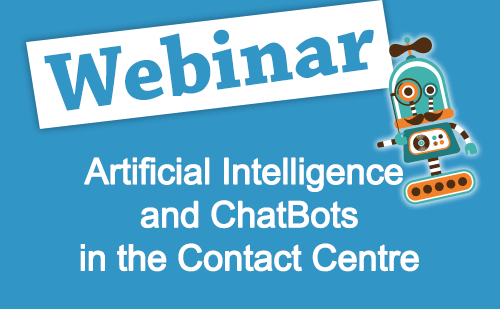 Artificial Intelligence and the use of Chat Bots, is all the rage now. But how can you separate the hype from the reality?
In this webinar we discussed Artificial Intelligence and Chat Bots and look at where it is sensible to deploy them, and where it is not.

Agenda
Introductions – Rachael Boynton, Call Centre Helper
Peter Massey, Budd
Topics to be discussed
Artificial Intelligence
When to use Chat Bots, when not to use Chat Bots
Improving Customer Satisfaction of Chatbots
Assisting Advisors with Artificial Intelligence
Improving the Knowledge Base
Winning tip –"The most important thing is customer satisfaction, don't force the chat bot onto your customers. Remember that it is limited and cannot handle all queries; so don't be afraid to pass conversations over to an adviser." thanks to Jo31
Bonus tip –"We currently have a knowledge base when customers want to contact us. The keywords produce a maximum of 5 FAQs to try and answer. If not, the answer is submitted for an agent to answer. Those answers are then assessed and added to our knowledge base for future reference and an improved database of FAQs" thanks to Ally1.
Original Webinar date: May 2018
---