White Paper: Best Practice to Ensure Customers of All Languages Have a Great Customer Experience
---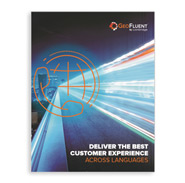 In an increasingly global and diverse world, organisations need to have the ability to provide a stellar customer experience across any language and channel.
This white paper looks at the steps needed to create an omni-lingual CX strategy.
White Paper written by: Lionbridge
Click here to download your copy of the white paper.
---
---