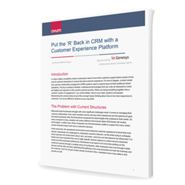 In today's highly competitive market, businesses need to have their customer support teams aware of any and all customer interactions to ensure the best customer experience. For this to happen, contact centre and customer relationship management (CRM) systems need to expand beyond their traditional siloed operations.
The key is looking to flexible, multichannel technologies that can unify all interactions (voice and digital) and map them to the overall customer journey. When you bring everything together into a coherent "system of engagement," you unlock hidden value in your data, systems and people.
Modernising the contact centre around this concept means thinking about how to be more responsive to customers. It is not as difficult to achieve as you may think.
White Paper written by: Genesys
---