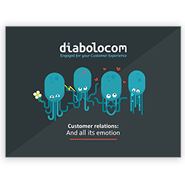 What makes a customer experience memorable more than anything else is the emotion felt by the customer.
In an economy where it's become almost impossible to stand out effectively on price and product, positive emotion is more important than ever.
This white paper looks at the importance of managing customer emotions throughout the customer experience.
White Paper written by: Diabolocom
---