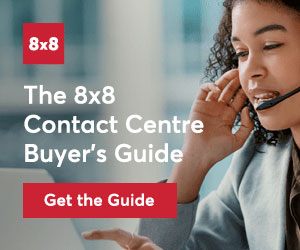 8×8 has announced the first quality management and speech analytics solution that moves beyond the contact centre to span all customer voice interactions across the entire enterprise.
Because the 8×8 X Series communications and contact centre solution is built on one cloud platform, the AI-based 8×8 Speech Analytics and Quality Management uses information that until now has not been readily accessible throughout an organisation.
With access to this richer data from one technology solution, companies are able to identify additional operational improvements and collaborate with employees across the company to accelerate sales, enhance customer satisfaction and improve employee performance.
8×8 Speech Analytics and Quality Management will be showcased at booth 506 at Enterprise Connect taking place through March 21 at the Gaylord Palms Resort and Convention Centre.
"Until now, these types of analytics have only provided visibility into contact centre interactions. While critical for contact centre performance, it limited the ability to assess and maximise daily employee and customer interactions taking place throughout the rest of the organisation," said Dejan Deklich, EVP and Chief Product Officer at 8×8.
"With 8×8 Speech Analytics and Quality Management, companies can quickly and easily unlock insights from every customer discussion. This is a game changer for teams outside of the contact centre, such as field and partner sales, that want a data-driven way to provide collaborative performance management and identify new methods for operational efficiency."
"Importantly, data protection and privacy continue to be core principles behind the design and development of our solutions," continued Deklich.
"The X Series platform gives customers the ability to harness communications data broadly across the organisation without sacrificing their commitment to these important requirements."
Speech Analytics and Quality Management
Using Artificial Intelligence (AI) capabilities such as embedded sentiment analysis, phrases and keyword trends, 8×8 Speech Analytics will provide departments outside of the contact centre, such as sales, collections, and recruiting, with a powerful coaching, collaboration, and voice transcription platform for quicker issue identification and resolution.
Enterprise-wide usage will enable collaboration and knowledge sharing and result in more engaged employees, giving them the ability to reinforce and replicate positive customer experiences as well as identify and rectify problem areas.
"Now is the time for executives outside the contact centre to reap the benefits of speech analytics," said Dan Miller, Lead Analyst & Founder at Opus Research.
"Increasingly, companies are realising the value of analysing all conversations, not just those that are managed through the contact centre."
"For example, valuable insights can be gleaned by analysing interactions between an inside sales team and their prospects."
8×8 Quality Management and Speech Analytics are part of the 8×8 X Series, which helps businesses transform their customer and employee experience with one system of engagement across voice, video, chat and contact centre, and one system of intelligence on one cloud-based technology.
Delivered on a microservices architecture, 8×8 Speech Analytics provide out-of-the-box operation unlike traditional systems that require lengthy and expensive professional services to deploy.
By delivering these two applications in a single tightly integrated solution, 8×8 enables collaborative performance management for any size organisation, spanning the entire business.
Companies such as Movement Mortgage are excited about the positive business impact of this technology.
"As a top-10 national retail mortgage lender employing more than 3,200 people in over 700 branches across 49 states in the US, Movement Mortgage is passionate about every member of our team thriving, personally and professionally," said Will Simons, Director of IT at Movement Mortgage.
"We are very excited about the possible use cases for 8×8 Speech Analytics and Quality Management with our sales and support groups."
"For example, we can learn what our President's Club sales associates are doing to become top performers and use these positive repeatable examples to train other associates to deliver higher levels of service."
Common Data Format and Dashboard
In addition, 8×8 also announced a new common data format and dashboard for the X Series.
The new data format tracks all interactions throughout the company, which is the key to monitoring the entire customer journey as one interaction.
For example, a customer calling a company's reception desk is then transferred to a contact centre agent, who then forwards the customer outside of the contact centre to speak to a subject-matter expert in finance or field sales.
Other solutions can only track this interaction inside or outside the contact centre and cannot span both segments of the conversation.
8×8 X Series monitors these types of engagements as a single customer journey no matter where the interaction starts and ends.
The new X Series dashboard will aggregate voice, video, chat and contact centre interaction data to allow companies to see reports in a single pane of glass.
Companies can quickly and easily create their own customised dashboards and reports to provide visibility on important metrics, and to be immediately notified when conditions warrant attention.