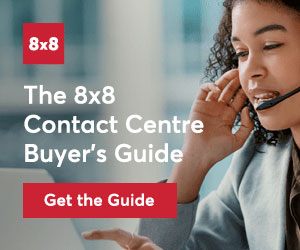 8×8 has announced the official partnership between its UK subsidiary and Workair, a premium cloud provider in Ireland.
This is the latest in a series of strategic partnerships with key cloud providers across Europe, following the announcement of a partnership with French provider Itancia in March.
Workair brings enterprise-grade solutions to businesses of all sizes, across sectors including retail and manufacturing. The partnership will enable Workair to meet the demand for cloud communications solutions across Ireland with 8×8 X Series.
8×8 X Series helps businesses transform their customer and employee experience with one system of engagement across voice, video, collaboration and contact centre and one system of intelligence on one cloud platform.
"With demand for cloud communications rapidly gaining momentum in Ireland, our partnership with Workair will mean we're perfectly positioned to help companies in the country communicate faster and smarter to exceed customer expectations," said Bill Corbin, Senior Vice-President, 8×8 Global Indirect Markets.
"Having already launched our solution in France, this latest step will enable even more businesses across Europe to work more effectively using the latest cloud communications technology."
8×8 X Series enables organisations to differentiate their customer experience in real time by connecting customers to the most relevant employee on any channel for quicker resolution of queries. Furthermore, X Series personalises customer interactions with context-rich insights, and optimises for smart customer outcomes based on business-critical signals derived from advanced employee-customer interaction analytics.
"For us, this is the perfect partnership at the perfect time," said Stephen Mackarel, Managing Director at Workair.
"Businesses up and down Ireland are moving to the cloud in record numbers and they need the best technology to do this effectively. 8×8 X Series is a great solution to this demand. As one of the leading providers in the market, we will now be able to deliver a non-intrusive, enterprise-grade, flexible and secure solution that caters to businesses of all sizes. It's perfect for our customers across both contact centre and office communications, as there's no upfront cost, but it is also fully scalable, which means they'll never have to change their communications system again."
For more information about 8×8, visit www.8×8.com.