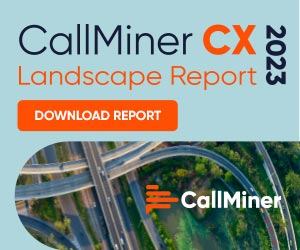 TCN has announced its integration partnership with CallMiner.
Under the partnership, TCN will fully integrate its cloud-based contact centre solution, Platform 3.0, with CallMiner Eureka, a speech analytics platform.
This integration will enable contact centres to improve call centre and agent performance and optimise customer experience, while increasing efficiency and reducing compliance risk.
Offered as TCN Speech Analytics powered by CallMiner, the new call analytics tool captures 100 percent of contact centre conversations, uncovering deep actionable insights into the relationship between agents' actions and customer satisfaction.
TCN speech analytics transforms each call into a fully searchable and taggable text transcript with direct links to relevant audio sources in near real time.
The highly flexible search engine makes it easy to retrieve calls by searching for words, phrases, acoustic measures (such as silence) or call attributes (such as agent). With speech and customer engagement analytics, contact centres can better monitor, manage and communicate with their customers to improve overall operations.
"We are proud to partner with leading technology companies such as CallMiner to offer new and innovative solutions to our customers," said Terrel Bird, co-founder and CEO of TCN.
"With TCN speech analytics, our global customers will have access to full speech transcription, smart search and discovery tools, and the ability to make well-informed decisions based on agent performance."
Fully integrated with CallMiner's customer engagement and speech analytics technology, TCN's Platform 3.0 now offers the following key features:
Advanced searching and filtering – Highly flexible search engine for searching and filtering call and chat transcripts (i.e. can search by words, acoustic measures and metadata)
Contextual call playback – Playback of call audio is synced to all text transcripts. Select the words, phrases, search hits or tags and listen to the associated audio clip
Tagging and commenting – Agents can add comments to transcripts and tag lists of calls or specific portions of the transcript within a call for review
TopicMiner discovery tool – Highlights interesting insights and moments in transcripts for any set of calls retrieved through search
Full PCI redaction – The platform is independently PCI (Payment Card Industry) certified for data security and confidentiality. PCI data is fully redacted during ingestion from both text transcripts and call audio to prevent exposure of sensitive customer information
"We are excited to partner with TCN to improve how companies track and manage contact centre performance to transform their operations," said Paul Bernard, president and CEO of CallMiner.
"By offering both our Enterprise and Starter editions of CallMiner Eureka, this new partnership allows TCN to enable contact centres, collection agencies and BPOs of all sizes the opportunity to record, transcribe and obtain invaluable insights from every customer call."
For more information about CallMiner, visit: callminer.com