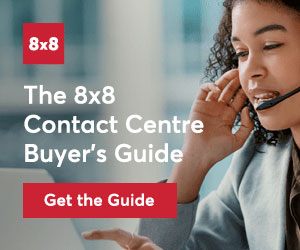 8×8 has announced 8×8 Frontdesk, a new 8×8 XCaaS (eXperience Communications as a Service) composed experience for high-volume call handling.
8×8 Frontdesk transforms the receptionist role by delivering a tailored experience and user interface that blends traditional unified communications and contact centre capabilities.
It provides call queuing and handling features that enhance productivity and personalize engagement for a hybrid work environment, and was recently named a finalist in the overall Best of Enterprise Connect 2021.
Unlike traditional operator consoles or switchboard solutions which require add-on or separate applications, 8×8 Frontdesk leverages the single-vendor, integrated employee communications and customer engagement capabilities of 8×8 XCaaS and is natively enabled within the 8×8 Work app.
This eliminates the need for additional applications to install or support, and also removes any dependency on additional third-party solutions.
8×8 Frontdesk offers organization-wide visibility into the status and availability of the entire workforce with the ability to filter users by site – spanning standard 8×8 extensions and Microsoft Teams users – and connecting incoming callers to employees and call queues. It also enables the receptionist and front desk function to be assigned or delegated to any user, regardless of role, location, or device.
"Organizations don't want cookie-cutter, one-size-fits-all communications solutions for their distributed employees. They are looking for an agile solution that meets specific use cases, such as high-volume call handling to easily connect customers, partners, and vendors with any employee at any time," said Zeus Kerravala, Founder and Principal Analyst at ZK Research.
"8×8 XCaaS and the 8×8 Frontdesk solution addresses the changing requirements of receptionists and front desk staff, especially as they shift to a hybrid workplace."
The 8×8 Frontdesk tailored user interface is designed to maximize productivity, enabling receptionists and front desk staff to answer calls efficiently regardless of location or device, access a custom view of expert resources to consult, and connect calls using single-click interactions.
It also significantly reduces training costs, speeding user adoption and time to value. 8×8 Frontdesk is built on the resilient, secure, and compliant 8×8 eXperience Communications Platform, which offers the highest levels of reliability and the industry's only financially backed, platform-wide 99.999 percent SLA across an integrated cloud UCaaS and CCaaS solution. 8×8 Frontdesk features and benefits include:
Tailored Experience
One App for All Scenarios: Natively accessible from 8×8 Work, which includes voice, video meetings, team chat, and more in a single, integrated desktop application, 8×8 Frontdesk is easily enabled as an additional wide-screen viewer mode that is purpose-built specifically for the receptionist role. This eliminates the need to learn and use an additional app.
Personalized Solution for Every User: Provides custom filters to tailor each user's target contact list with the ability to annotate personal information for each contact and select the preferred 'away from desk' mode.
Centralized Answering for Both Employee and Contact Centre Agent User Groups: Leverages the integrated 8×8 eXperience Communications Platform that spans across the organization to personalize call answering for specific user groups.
Powerful Call Handling
Intuitive User Interface: Allows receptionists and front office staff to stack, prioritize, and manage multiple calls simultaneously from anywhere, directly in the 8×8 Work desktop app. Automatic contact-filtering of the enterprise directory, based on the site location dialled, enables fast pick-and-click transfers to a localized user list.
Robust Queue Management: Unifies the view of multiple call queues, spanning both general enquiry business lines, and campaign or service-specific numbers.
Click-to-Call and Chat: Delivers robust call queueing, advanced organization-wide transfers, and messaging capabilities at the click of a mouse.
Holistic View of All Extensions, Agents and Call Queues: Provides organization-wide status of all users and call queues, including presence sync with Microsoft Teams via the 8×8 Voice for Microsoft Teams direct routing solution.
Answer From Anywhere
Device Agnostic With No Hardware Required: Software solution that is not dependent on specific console or deskphone hardware from a third party, eliminating the need for complex and costly multi-vendor solutions.
Location-independent: Extends the receptionist role to any 8×8 Work user across the organization.
What Customers Are Saying
Global customer success with 8×8 Frontdesk demonstrates the importance of this new composed experience for high-volume call handling that allows for productive and personalized employee and customer experiences:
"Instead of needing to switch from application to application, 8×8 Frontdesk provides us with complete, uninterrupted functionality across all 8×8 capabilities all from a single interface," said Andy Clark, IT Manager at Wansbroughs Solicitors, a modern commercial law practice in the UK. "8×8 XCaaS removes the silos our team was previously experiencing from disparate on-premises solutions, allowing them to work from anywhere, and 8×8 Frontdesk is very aligned with how our receptionist works."
"8×8 Frontdesk provides us with the control and ownership of our call processes and messaging that we previously did not have," said Zak Litovchenko, Information Technology Support Specialist at Parasec, a secure document filing and retrieval service. "By integrating the solution with 8×8 Work, our team has experienced an uptick in productivity and efficiency."
"8×8 Frontdesk allows your team to easily answer, transfer, and manage your call queue from anywhere," said Tom Newell, Consultant at Charterhouse Group, an integrated solutions provider in the UK. "It is everything you could ask for – an intuitive look and feel, hands-free calling, and easy team management. The tailored experience will help meet the specific needs of your customers."
"8×8 Frontdesk provides a complete view of our call queues and staff, allowing me to easily manage our incoming calls and connect customers to the right people quickly to provide the best experience possible," said Amanda Thompson, Receptionist at Bayside Group, one of Australia's leading recruitment and business service companies. "The intuitive user interface and capabilities increase call-handling efficiency, absolutely making my job easier."
"As businesses embrace hybrid work environments, the traditional receptionist or front desk role now requires the same flexibility and movability of any other role within the organization," said Hunter Middleton, Chief Product Officer at 8×8, Inc.
"By developing a purpose-built, native solution that leverages communications, collaboration, and customer engagement features from 8×8 XCaaS, 8×8 Frontdesk is empowering organizations to create a very personalized and empathetic experience for their employees and customers.
"This ensures that every first customer contact is a great one by eliminating traditional limitations and restrictions previously associated with this role."
This blog post has been re-published by kind permission of 8x8 – View the
Original Article
For more information about 8x8 - visit the
8x8 Website