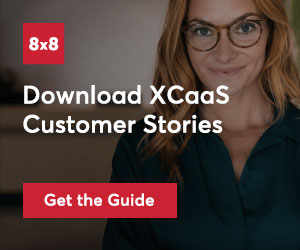 8×8 has announced a partnership with Virgin Media Business, one of the UK's largest business data network providers and supplier of business communications solutions to more than 50,000 UK businesses.
The partnership will allow Virgin Media Business to extend its Voice and Unified Comms portfolio, providing Public Sector, Enterprise and SME customers with a host of new cloud-based and fully integrated communications tools from 8×8 covering voice, video, chat and contact centre solutions.
Joining forces with 8×8 enables Virgin Media Business to tap into the rapidly growing cloud communications market and provide clients with a single-platform solution.
8×8's unique technology stack offers a whole host of features, without the challenges that on-premises equipment often presents, enabling staff to collaborate faster and work smarter wherever they are.
The fully global communications platform supports enterprise-class API solutions and allows Virgin Media Business's customers to add new functionality with ease.
By moving to cloud-based communications services, businesses will be able to reduce their capital expenditure and move towards a future-proof communications platform designed to scale with their business.
Under the partnership, Virgin Media Business and 8×8 will work together to configure and roll out integrated cloud services and provide 24/7 support for customers.
John DeLozier, Senior Vice President & Global Channel Chief at 8×8, commented, "We are thrilled to be working with a leading UK partner like Virgin Media Business."
"This strategic partnership will enable us to help thousands of private and public sector businesses communicate more effectively with cloud-based technology."
"We're looking forward to helping Virgin Media Business expand further into the cloud space in the coming months."
Andrew Halliwell, Product Director at Virgin Media Business, said, "This partnership provides our customers with a globally leading cloud communication platform that offers a step change in how businesses communicate with their customers and colleagues."
"8×8 is a truly disruptive business whose relentless customer focus and innovative products make them a natural partner for Virgin Media Business."
This news story has been re-published by kind permission of 8×8 – View the original post