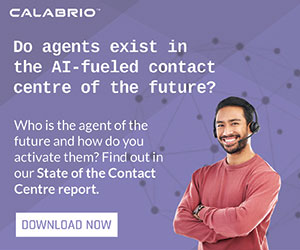 After months in total or semi-isolation, today's customers – especially those with less disposable income due to economic shutdowns – have an even greater need to feel heard by the customer service teams they contact.
But what customers actually mean when they say they want to be "heard" might surprise you.
Calabrio's recent Evolving World of Work study – which researched how the COVID-19 pandemic impacted and will continue to impact customer service expectations and contact centre operations – found increased expectations around two key elements that make a customer feel heard:
Omnichannel access. Seventy percent of US contact centre managers saw customers expecting to connect and communicate with customer service teams in more ways than simply voice.
More empathy. Sixty-nine percent of US manager respondents observed that customers want all interactions with customer service teams – including digital ones – to be infused with more emotional empathy.
It might seem difficult to meet both of these goals at the same time. After all, digital messages are prone to flat affect (ask anyone who's misinterpreted one of my sarcastic texts!), and that certainly doesn't foster empathy.
But delivering empathetic communications via omnichannel communications indeed can be done.
That's why Calabrio is excited about their new partnership with UJET, where they've combined UJET's modern customer support capabilities with Calabrio's leading workforce and customer engagement solutions.
Together, they're creating a more digital experience for customers, one that's also human-centric and empathetic. It's about connection. Even if delivered by a remote or hybrid workforce.
Here's how.
The Technical Connection
Seamless, integrated, digital-first communications give customers the interaction flexibility they crave.
Together, Calabrio ONE and UJET give contact centres a tightly integrated, multimodal, omnichannel platform that brings together multiple channels and contextual data to meet the needs of different customer journeys.
Customers can pick from a rich selection of voice, messaging and mobile communication options to engage with contact centre agents however they prefer.
The Emotional Connection
A richer understanding of customer sentiment drives more empathetic interactions.
Our joint Calabrio ONE/UJET solution gives companies the contact centre tools, infrastructure and insights they need to better understand customer sentiment.
Leaders then use these sentiment findings to build new – or adjust existing – training protocols to coach agents more extensively on how to build, nurture and communicate empathy.
The Flexible Connection
Cloud-based technology enables seamless shifts to remote work when needed.
A deep, cloud-to-cloud integration between UJET and Calabrio ONE lets organizations quickly deploy, modernize and decentralize customer support operations when strategy shifts or unexpected events like the pandemic require it.
These three types of connections can help your company become a better listener, so your customers truly feel heard. We'd love to tell you more about it.