Call Centre Helper visited a Neopost contact centre in Romford.
In the UK and globally, Neopost provide a range of digital and conventional mailroom solutions. The Romford site currently has 140 agents and operates a range of services including telesales and customer service.
The contact centre processes around 1,500 inbound calls and 500 emails per day. They have also recently introduced Live Chat and are seeing a steady rise in traffic.
Here are a few ideas we learnt that you could apply to your contact centre.
Use your wallboards to welcome your visitors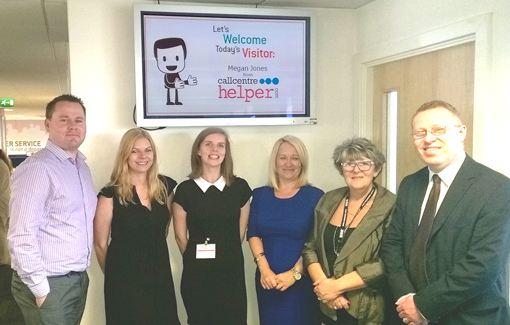 Displaying your visitors' names on your wallboards is a great way to welcome them to your contact centre.
It also helps to remind your agents that they need to be on their best behaviour!
Make a company video and choose a theme song
One way to increase the sense of pride and ownership in your contact centre is to make a company video – and select a fitting theme song.
The video can then be put on the company intranet for everyone to access, and can also be played on your wallboards when everyone is in need of a mood boost.
"The response to the video was amazing," said Charmaine Vallance-Poole, Head of Customer Experience at Neopost. "The big unveiling took place at our annual kick-off meeting, and there was such a great atmosphere on the floor as everyone watched it for the first time. The best thing of all was that the agents all took the video home and showed their parents, friends and anyone else who would watch it. Everyone was proud to say 'this is where I work'."
This type of video could also double up as a recruitment tool, as you can give candidates a taste of the company culture before they join the business.
Track the number of positive words your agents are using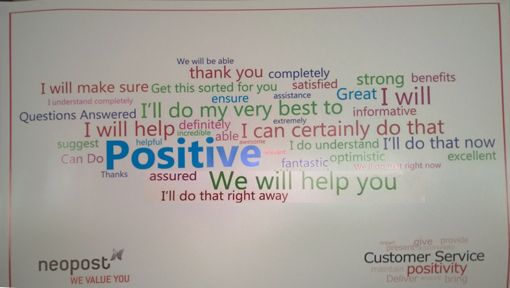 A great way to encourage your agents to focus on pleasing the customer is to track the number of positive words and phrases they say in each call – and turn it into a competition!
Using speech analytics, these keywords and phrases can be tracked and collected on a virtual scorecard – making it straightforward to select a winner each month.
[For some inspiration on the words your agents could be using, see our article The Top 25 Positive Words and Phrases – Editor]
Get your apprentices out into the community
If you are running an apprenticeship scheme in your contact centre, you could consider adding local voluntary work into their training programme.
This could help your new recruits to develop the confidence and communications skills necessary for success in the contact centre – and has the added bonus of generating positive publicity for the company.
Put your trophies in the break-out room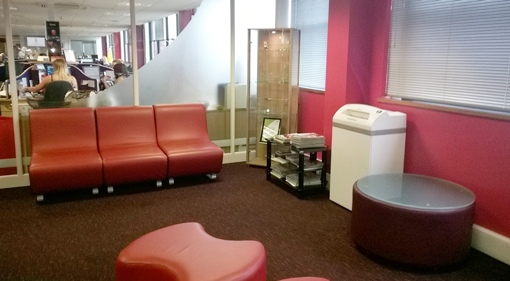 While having your trophies on display in reception creates a good first impression for any visitors, your agents won't really see the benefit.
Celebrate your agents' success – and remind them of it daily – by putting all of their hard-earned trophies on display in the break-out room.
Take your top performers abroad every year

An extra-special way to reward the crème de la crème of your workforce is to take them on an annual all-expenses-paid holiday to long-haul destinations such as Las Vegas or Jamaica.
Though the competition is open to everyone, the limited number of places means that only the top performers are able to go.
Yet everyone benefits from the excitement this competition creates, as agents battle it out to secure their place. For example, sending out 'wish you were here' postcards to everyone – advertising the selected destination – is a fun way to get the buzz started!
Remember to reward your customer service team as well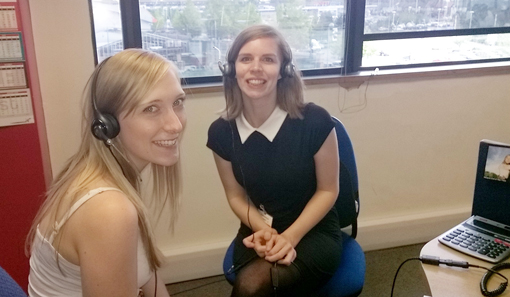 It is easy to overlook the need to incentivise your customer service department, especially when faced with the constant pressure of motivating your sales team. Yet making an effort to level the playing field can have a positive impact on your business.
The NeoStars scheme monitors how well employees are satisfying customers and adhering to the company principles – and gathers all of this information into a points scheme.
The top performers across the business are then – like the sales team – offered the chance to go on an all-expenses-paid holiday once a year.
This can help to dispel any resentment which may exist between customer service and sales, as well as promote positive cross-department communication.
This effect can be enhanced by structuring your office with a mix of sales and customer service pods – rather than having a sales floor and a customer service floor.
Hire a photo booth for your 'end of year' party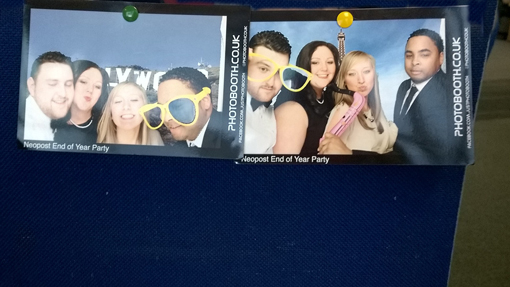 A great way to maintain a positive buzz in the contact centre following your end-of-year party is to hire a photo booth for the event – and then let your agents have all the print-outs they want.
These are quite likely to be stuck to desks and around the office – and can help to bring a smile to your agents' faces months after the event.
Silver Awards praise the agent for going "above and beyond" for a customer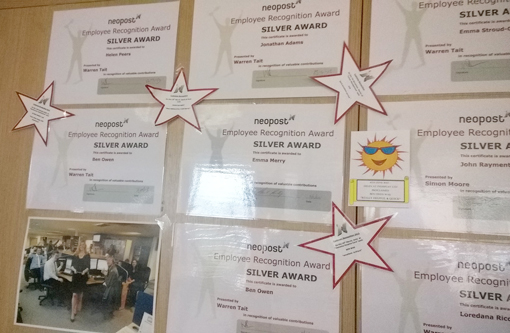 At Neopost, Silver Awards are presented to agents who go "above and beyond" for the customer. The winners receive a certificate which is hung on the wall, as well as a £50 voucher.
The awards are also given out on the service floor, so that the winners receive public recognition for their efforts.
"While the agents do appreciate the financial rewards attached to such incentives as the Silver Awards, we have found that the most important thing is the value of the recognition," said Shelley Hart, Quality Control Coordinator at Neopost. "This is why we now present the awards on the service floor in front of everyone."
Overall, this helps to drive a positive employee culture which puts the customer first.
Hot-desk your agents during quiet periods so pods aren't left half-filled
It can be hard to create team spirit in the contact centre when a large proportion of your agents are off enjoying their summer holidays.
An easy way to overcome this is to hot-desk your agents, leaving just one or two completely empty pods rather than a scattering of half-filled ones.
This will help to boost agent morale, as well as re-energising everyone by mixing up their teams and working environment.
Run a collection of incentives at different points in the year
Running a mix of incentives – each working on a different time scale – is a great way to help to motivate employees throughout the year. These can be broken down into daily, monthly, quarterly and annual rewards.
For example, top performers at Neopost have the opportunity to:
Go on an annual all-expenses-paid holiday
Take part in a company day out (e.g. paintballing) every quarter
Receive monthly bonuses, commission and vouchers
Win a free lunch in the canteen every day
With this approach rolled out across the business, there is always something to work towards – even if it's just a free lunch!
Name teams after businesses practising exceptional customer service
Another way to promote a positive vibe in your contact centre is to name your teams after iconic companies which put customer service at the heart of their business.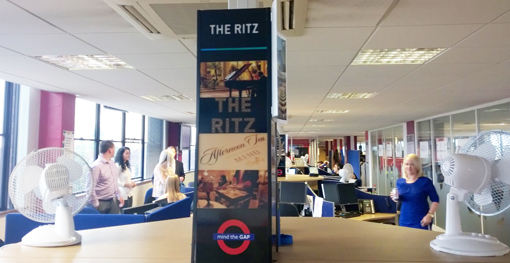 For example, Neopost are currently running with a "Best of British" theme and have named their teams after luxury hotels such as The Ritz.