Here are ten ideas for celebrating Halloween in the contact centre, helping to improve morale with festive fun.
But before we get into our list, just remember that not everybody would like to be involved, so don't force these ideas on unwilling advisors.
However, if you know your team well and think they would be invested in Halloween fun, these ideas can be great for sparking healthy competition and boosting the contact centre atmosphere.
1. Dress Up and Bring in a Photobooth
It's Halloween, so if you want to celebrate it, you have to dress up! Contact centres are often full of young, upbeat advisors, and if you have a good culture, advisors will likely embrace the chance to get dressed up for work. Just look at Vax's contact centre in Droitwich.
A great addition to this is to bring in a photobooth for the day, which you can decorate with cobwebs, mood lighting and creepy props. These props can include thing like skulls, reapers, tombstones and so on.
The photobooth is great for the team to instantly have a photo that they can keep, helping to build positive memories that they then associate with the contact centre.
2. Wrap the Mummy!
Do you want your contact centre teams to be socialising more with one another? Of course you do! If you work alongside friends, you are much more likely to be happy in your job and stay for longer. This "Wrap the Mummy" game is ideal for getting the team to work together in a fun way.
To play, choose a member of your team to be the "mummy". They will stand still as the rest of the team wrap them in toilet paper until they are completely covered.
The team to record the quickest time for doing this is the winner, as teams throughout the contact centre compete against each other, perhaps for a Halloween-themed incentive.
3. Monster Guess Who
This game is fairly simple and can be a good way of helping advisors from all around the contact centre get to know each other.
To play, attach a sticky note to the back of the advisor as they arrive in the morning, with the name of a classic horror movie monster or a well-known Halloween-related persona.
The advisor then has to walk around the contact centre and simply ask yes or no questions to their fellow advisors until they can figure out who they are.
4. Scavenger / Treasure Hunt
Just like a classic scavenger hunt, hide clues around the contact centre. When someone finds the clue, a Halloween-based riddle will lead them to the next one.
The clues all lead to a big prize, which is hidden somewhere in the contact centre, but it's good practice to play in your teams. So, each team should be split into pairs, and when they find their clue, the next pair in the team looks for the next clue. This ensures that there are still advisors manning the phones and means that the big prize can be shared throughout the team.
Examples of Halloween riddles may include something like: Witches and wizards fly on brooms, find the next clue in one of the upstairs meeting rooms.
5. Halloween Foooood (Did you see what we did there?)
Try holding a lunch celebration, which lasts for at least two or three hours so that you can stagger advisors off the phones – with themed food, eerie music and fun activities scattered around the break room.
Themed food can include spider biscuits, toffee apples and anything with pumpkins. Ativities for the break room could involve pumpkin carving competitions, pumpkin decorating and apple bobbing.
But, when it comes to "fun, food and drink", Dan Moross, the Director of Customer Experience at MOO, recommends that you "allow the advisors to actually plan these activities for themselves, rather than a supervisor or a manager 'mandating' what it is that we do."
After all, the advisor role can be quite repetitive, so allowing willing advisors to plan your Halloween lunch may help to boost their morale and will encourage the rest of the team to buy into the idea.
6. Decoration Competitions
A vibrant atmosphere can really motivate the contact centre team, and giving them the opportunity to decorate their workspace is something that allows your artsy advisors to really show off their creative side.
It can even be turned into a competition, with different teams randomly selecting different themes to decorate their work space. For example, one may pick the theme of classic horror films while another may choose mythical creatures.
Teams will once again work together for this activity, helping to build that communal spirit, while the contact centre manager will select the best decorated workspace – giving a prize to the winner to reward and recognise their hard work.
7. Halloween Awards
Along with the award for best decorated workspace, awards can be given for individual efforts, such as best dress, best team dress and scariest advisor.
A niche award is to ask each team to create five or six Halloween-themed short videos (about five to ten seconds long) on their mobile phones in the morning. They will then send these to a neutral advisor, who can decide which team sent in the most fun videos.
The neutral advisor would then create a compilation of the winning team's videos, which will be presented to the entire contact centre at the end of the day – revealing the winner.
8. Bring in a Charity Element
As with any festive contact centre event, you have the chance to raise money for charities that mean a lot to your advisors.
While party ideas and games are fun, games in the interest of a bigger cause are special. So, think of ways that you can raise money and link incentives to help out local charities or those that your advisors make a special case for.
In fact, to make the team games that you play more meaningful, perhaps offer the winning team a day off work to volunteer together at a chosen local charity. This helps bring the team closer together, while helping the community in which they live.
9. The Office Creepy Clown
For one day last Christmas, Sky's contact centre in Stockport hired an actor to dress up as the Grinch for a few hours one day and cause chaos around the contact centre.
While this wouldn't work for Halloween, you could replace the Grinch with a "creepy clown", who would make his way through the contact centre, quietly scaring advisors in the process – only those who were off the phone of course.
The creepy clown could hide in places ready to "jump out" and surprise unfortunate advisors. He/she could sneak up on them or even tamper with their decorations, perhaps as contact centre teams compete against one another in the decoration competition (point 6).
10. Halloween Mocktails
End-of-day drinks can be a great way to finish a fun-filled day. However, when the team are still at work, alcoholic drinks are not the best idea.
However, mocktails that are created around Halloween themes may just be the next-best thing. These Halloween mocktails can include non-alcoholic versions of spiced cider punch, butterbeer or blood orange martinis.
So, consider bringing in a professional barman or perhaps give a couple of advisors the chance to have a go at making these for everyone.
Remember you can also "Halloween up" your PowerPoint presentations. Start by taking a look at our unique set of Halloween themed templates.
For more ideas for contact centre games, read our articles:
---
Contact Centres Get into the Spirit of Halloween
Happy Halloween from the EU Contact Centre! #HappyHallowen #Halloween #DiamondCareers #DRITechSavvy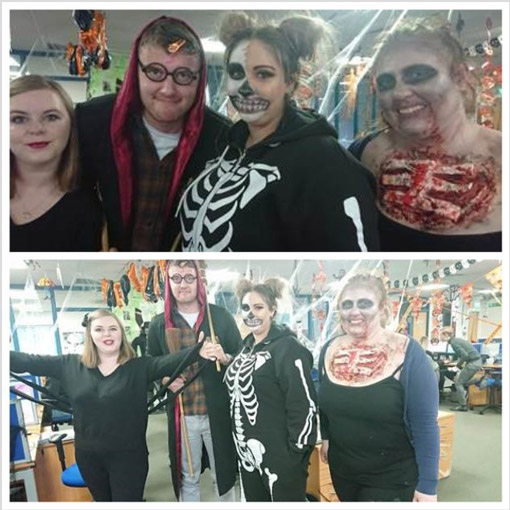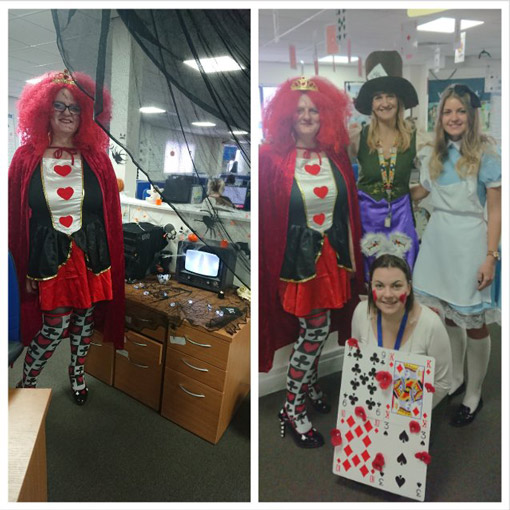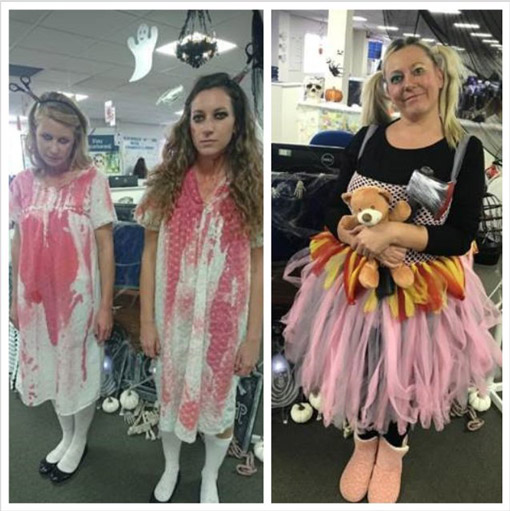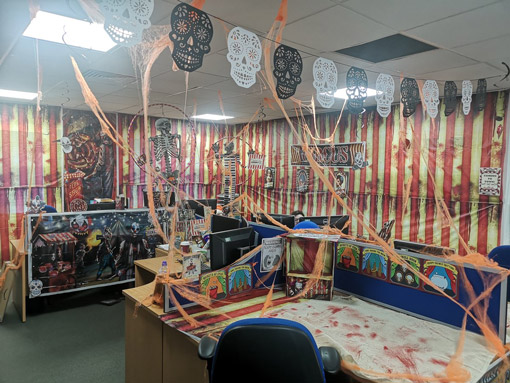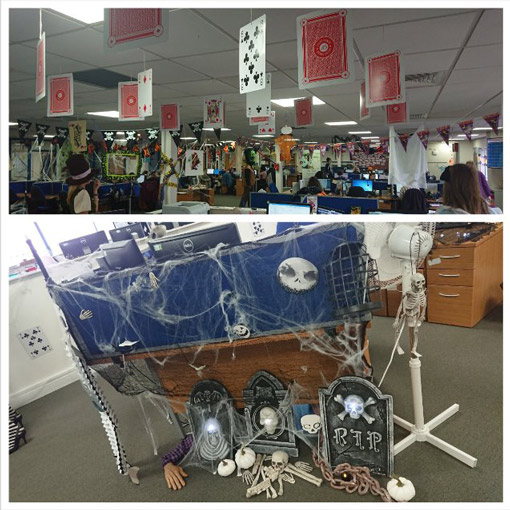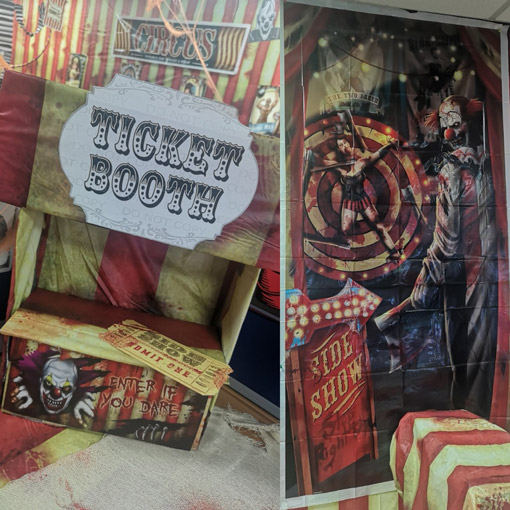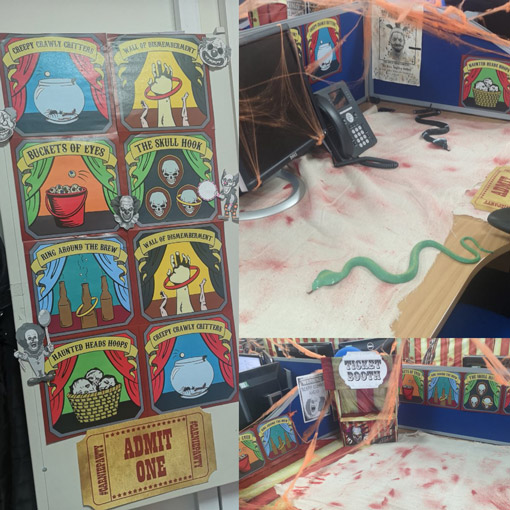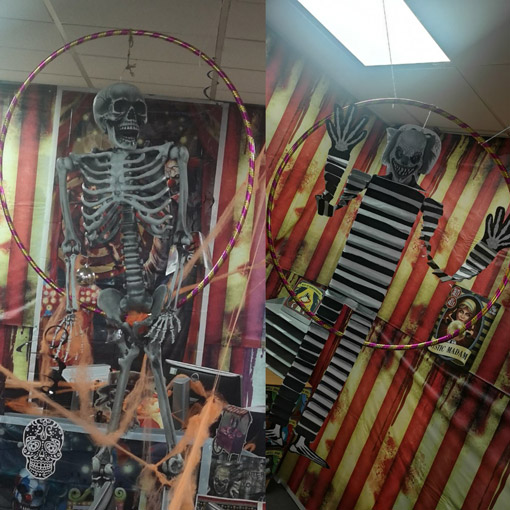 Thanks to @DRIEUCC
Things are getting ghoulish at Yorkshire Water customer contact centre!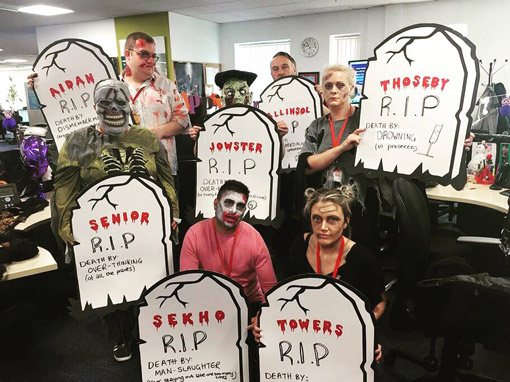 thanks to @YorkshireWater
Spooky goings on with Douglas Jackson and Their haunted Halloween themed team building day today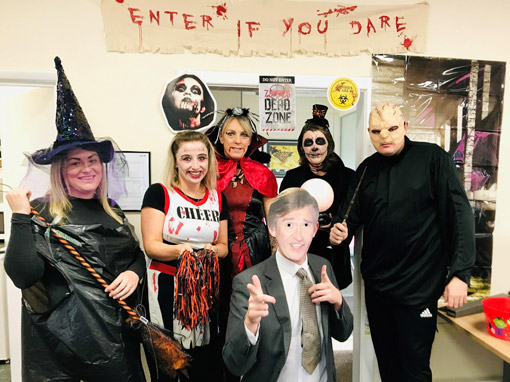 Getting in the Halloween spirit with some of my Sky team in Nottingham. Fun and games going on all day on the ground floor.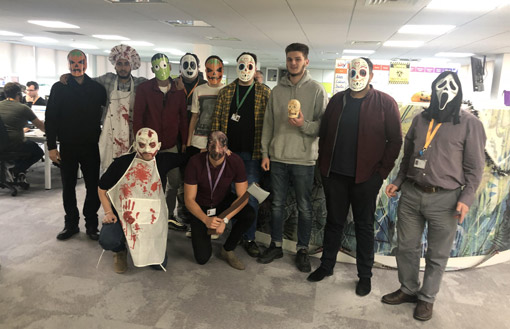 Thanks to Domestic & General
What did your contact centre do for Halloween?
Send your photos to our news desk!