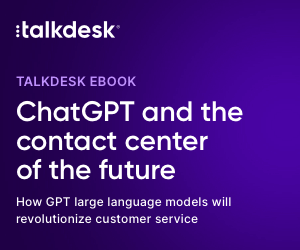 Lídia Dias at Talkdesk provides a comprehensive guide to learn everything about the migration to a cloud-based contact centre.
What Is a Cloud Contact Centre?
Let's start from the beginning: what is a cloud contact centre? A cloud-based contact centre enables companies to efficiently handle all inbound and outbound customer interactions (including voice, message, email, and social media) using a set of tools, applications, and cloud-hosted services, without any physical equipment besides a computer and an internet connection.
An efficient contact centre is critical for the company's long-term success—49% of consumers say that they stopped working with a company in the past year because of an instance of poor customer service. Organizations face several challenges when handling communications with customers:
Growing pressure to get issues solved in the first contact.
Security issues raised by remote and hybrid work models.
Multiple customer touchpoints.
Outdated solutions that don't integrate channels and touchpoints seamlessly.
The cloud contact centre is the communication hub that connects all channels, systems, and processes. It makes customer interactions easier and accessible from anywhere.
Cloud Contact Centre vs. On-Premises Call Centre.
After going through the cloud contact centre definition, it's time to compare it against on-premises. With on-premises call centres, communication software, hardware, and infrastructure remain onsite with dedicated servers—which means that setting up an on-premises call centre will take some time and a large investment.
Also, when running an on-premises call centre, your IT team is responsible for installing, maintaining, and upgrading every component— cloud contact centres, on the other hand, allow you to have new features and integrations as soon as the vendor makes them available.
Finally, the initial investment for an on-premises call centre is significantly higher than for a cloud contact centre, as you'll need to get not only computers and headsets for your agents but also on-site servers and other hardware and office costs.
Cloud contact centres only need computers, headsets, and an internet connection with adequate bandwidth.
5 Advantages of a Cloud Contact Centre.
There isn't a nice way to say it: on-premises call centres are outdated. They're costly, lack agility, and don't accommodate new hybrid work models.
More than that, they fail to address the modern customer experience that goes beyond just phone calls to include email, messaging, social media, and other communication channels.
The following are some of the benefits of hosting your contact centre platform in the cloud:
Faster deployment and implementation. Unlike on-premises software, cloud-based contact centre solutions providers offer implementation packages that can get your contact centre up and running within a couple of days.
Greater security. Cloud solutions offer great benefits in terms of security. Hybrid cloud contact centres, for example, give companies the ability to secure sensitive data in a private cloud and less sensitive data in a public cloud, combining the best of both worlds and making the transition easier.
Flexibility and scalability. Cloud gives you the ability to quickly expand your contact centre and scale to respond to a larger volume of requests (such as during the holiday season or during a specific event).
Ease of managing remote agents. Cloud solutions enable companies to hire and manage agents from anywhere in the world, distributing resources as needed and providing around-the-clock service without additional costs.
Standardization of global service. Cloud-hosted solutions allow you to provide standardized service and to quickly and easily implement quality assurance processes.
Choosing the Best Pricing Model and Preparing a Business Case.
Now that we've discussed the differences between on-premises and cloud contact centres and highlighted some of the benefits of moving to the cloud, let's talk about what pricing model to choose. Currently, there are two primary pricing models offered by vendors:
Per-user or per-seat model. For named users (one license corresponds to one designated user) or concurrent users (the same concurrent license can be used by any number of individuals, as long as they are not signed in at the same time).
Consumption or usage-based model. Based on the amount of time any given user is logged in to the software, regardless of the number of users. Typically, vendors offer more favorable deals when customers commit to a certain amount of consumption.
But what model should you choose? Opting for a usage–based model might sound more interesting than paying per seat, but context is everything here.
Each model has strengths and pitfalls—the best pricing model to choose depends on factors like the number of agents, shift patterns, number of hours online in the systems, cyclicality of the business, and more.
Before making any decisions, build a business case to understand where to start, what to prioritize, and how to properly research and evaluate your options. Building a strong business case and impressing your stakeholders will set up the success of this endeavor.
This blog post has been re-published by kind permission of Talkdesk – View the
Original Article
For more information about Talkdesk - visit the
Talkdesk Website